Morrison Dam Conservation Area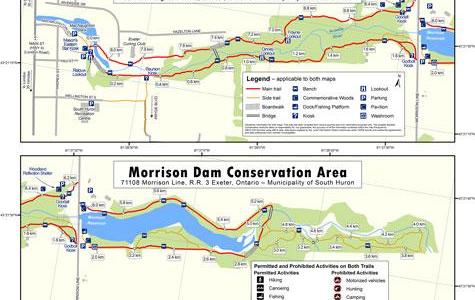 Morrison Dam Conservation Area (MDCA) is located near 71108 Morrison Line, RR 3 Exeter, Ontario.
Driving Directions: From Exeter, take County Road #83 east for two (2) kilometres, turn right (south) at Morrison Line. Entranceway is 500 metres ahead.
After the construction of Morrison Dam in 1959, the Ausable River, east of Exeter was transformed into a lake ecosystem with many recreational opportunities.
Visitors enjoy canoeing, fishing, picnicking, birdwatching, hiking on the five-kilometre trail.
For map of Morrison Dam Conservation Area trail and the MacNaughton-Morrison Section of the South Huron Trail, linking MDCA with Exeter, please download the letter-size version of the South Huron Trail Brochure.
Please also visit the Conservation Education page for information about school and group education programs at Morrison Dam Conservation Area east of Exeter.