Summer Nature Day Camps return in 2020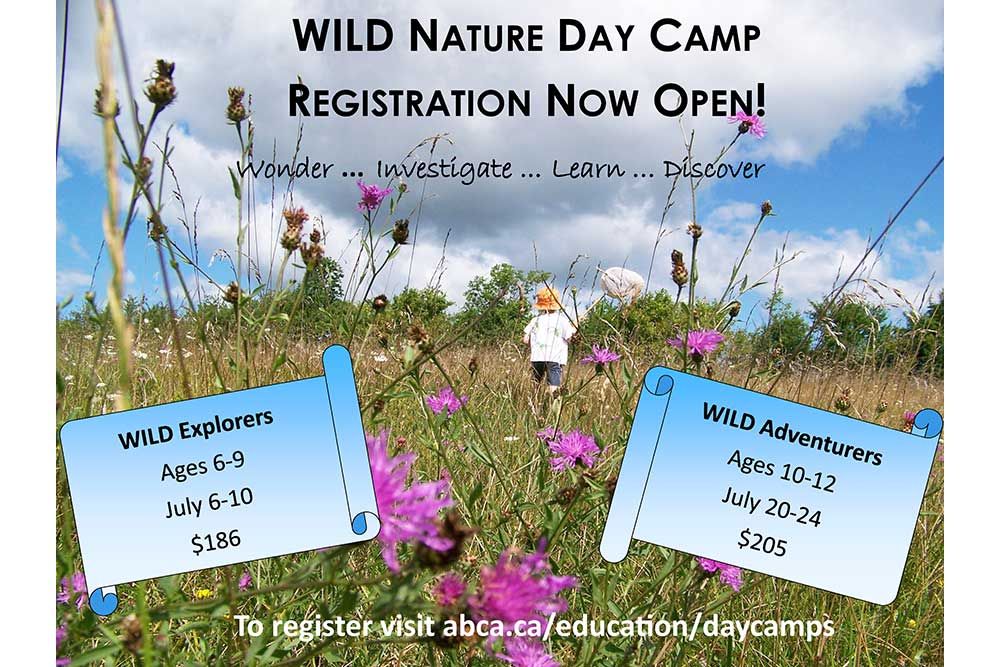 Be WILD - Wonder, Investigate, Learn and Discover at Summer Nature Day Camp
There are two weeks of day camps and conservation educators say they are 'WILD' (Wonder, Investigate, Learn, and Discover).
The first camp, for ages 6-9, is WILD Explorers Day Camp on July 8-12, 2020.
The second camp, for ages 10 to 12, is WILD Adventurers Day Camp from July 22-26, 2020.
Wild Explorers Day Camp provides campers ages 6-9 the opportunity to explore the natural world at Morrison Dam Conservation Area along the Morrison Dam Conservation Area (MDCA) and MacNaughton-Morrison Sections of the South Huron Trail. Campers end their week with a trip to the Exeter Splash Pad.
WILD Adventurers campers are invited to be 'WILD' this summer at Morrison Dam Conservation Area (MDCA). Campers work together with staff at Ausable Bayfield Conservation to create a week full of fun, engaging, hands-on, nature-based activities. Conservation educators say that "the year 2020 will feature a day trip to Pinery Provincial Park where we will learn about dune ecosystems and the natural history of the area."
Past favourite activities include: shelter building; fire building; Go Wild! Survival; and pond life study.
Space is limited.
There are only 22 spaces available for WILD Explorers Day Camp.
There are only 20 spaces available for WILD Adventurers Day Camp.
HOW TO REGISTER
Visit the Summer Nature Day Camps web page, at the following link, for brochure and for registration details:
Registration includes submitting both registration form and payment. Registration forms can be mailed, dropped off in person, or submitted online.
Cheques can be mailed with registration forms or in-person payment can be made by credit card or debit.
GENERAL INFORMATION:
Camps run from 9:00 a.m. to 4:00 p.m. at Morrison Dam Conservation Area, east of Exeter (on Morrison Line, south of Highway 83).
Before-care is available between 8:00 a.m. and 9:00 a.m. After-care is available between 4:00 p.m. and 5:00 p.m. Before and after care are offered free of charge!
Programs proceed rain or shine.
Please be sure to dress your child appropriately for the weather as we will be outdoors for most of the activities. Indoor programs will be run in the case of severe inclement weather such as heavy rain, thunderstorms, or high winds.
WHO SHOULD ATTEND NATURE DAY CAMP?
Campers will explore and discover the natural world through active outdoor play and educational activities. This program is ideal for young people who love or want to experience being outdoors, who enjoy walking in the woods and exploring, and who like to get their hands dirty!
LOOK FOR US ON THE INTERNET
To learn more visit the Nature Day Camps web page at this link:
CONTACT US:
Our contact information is:
Ausable Bayfield Conservation Authority (ABCA)
71108 Morrison Line RR 3 Exeter, ON N0M 1S5
Phone: 519-235-2610, extension 262
Toll-free: 1-888-286-2610
Fax: 519-235-1963
Contact Nina Sampson by e-mail at: nsampson@abca.ca
LOOK FOR US ON SOCIAL MEDIA
You may also visit Ausable Bayfield Conservation on social media:
Share this article >