Well water stewardship survey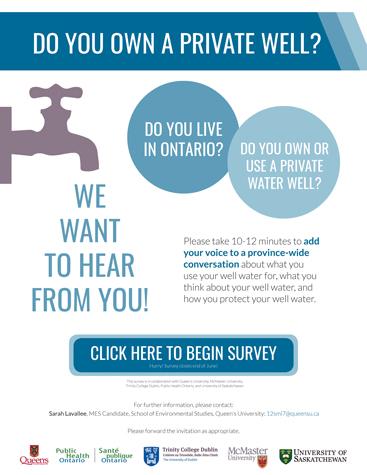 How do you protect your well water?
Do you own a private well? Do you live in Ontario? Do you own or use a private water well? A survey on well water stewardship invites you to add your voice to a province-wide conversation about what you use your well water for, what you think about your well water, and how you protect your well water.
This survey is in collaboration with Queen's University, McMaster University, Trinity College Dublin, Public Health Ontario, and University of Saskatchewan.
The survey is open until the end of June.
Sarah Lavallee is a Master in Environmental Studies (MES) candidate at the School of Environmental Studies, at Queen's University. The graduate student said the survey takes about 12 minutes to complete. Participation in the survey is voluntary. Surveys will remain private and nameless. The survey has 38 questions, and participants may choose to skip any of the questions they do not wish to answer. No personal identifiers are used to determine the identity of participants or their property, according to the research team.
To take the survey click this link:
To learn more, please contact: Sarah Lavallee, MES Candidate, School of Environmental Studies, Queen's University, at: 12sml7@queensu.ca
The information from this province-wide survey will contribute to a research project, led by Dr. Anna Majury, called 'The WELLness Project.'
The WELLness Project looks at the knowledge gaps of private well water stewardship and will contribute to a separate project that will create a knowledge tool or smartphone application for private well owners.
This research project on groundwater drinking sources aims to add knowledge about private well water use and stewardship, with the aim to develop a knowledge-based tool for use by private well owners and stewardship specialists.
The information gathered from the survey will contribute to a research project called 'Exploring, Developing and Evaluating Drinking Water Vulnerability Assessment Measures: Implications for rural Ontario communities using private groundwater drinking sources' (The 'WELLness' Project).
Share this article >