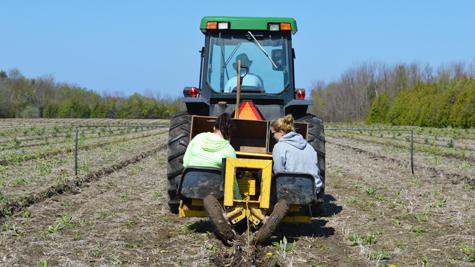 Ausable Bayfield Conservation plants more than 56,000 trees in spring of 2018; this is highest spring total in ten years
Spring tree planting in Ausable Bayfield watersheds started later than normal in 2018 but tree planters were able to plant tens of thousands of trees during a busy May
Tree planters at Ausable Bayfield Conservation have planted more than 56,000 trees in the spring of 2018. This is the highest single-year total for spring tree plantings by staff in the watershed in the past ten years, said Ian Jean, Forestry and Land Stewardship Specialist with Ausable Bayfield Conservation Authority (ABCA). The successful planting of so many trees took place despite a late start this year. Tree planters started planting later than normal this year because of cold and snowy weather in April. The tree planters were still able to get the trees planted before the end of May. "We finished before the Victoria Day long weekend thanks to hard work by staff and the tree planting crew," said Jean. "We could not have planted these tens of thousands of trees without the support of local landowners and other partners including those who fund tree planting and stewardship incentive programs."
The majority of the trees are row-planted using a tractor pulling a two-seated planter. Seated planters are able to plant more than 4,000 trees per day. Crew members must plant trees with a shovel in areas that are steeper or more remote.
The conservation authority plants trees when funding is available through donations (such as those made through the Carbon Footprints to Forests carbon counter-balance program at footprintstoforests.com) or supported by community groups, government departments and ministries, and other organizations with programs that support tree planting.
The majority of tree planting done by Ausable Bayfield Conservation is on privately-owned farms and other rural properties with the participation of local agricultural producers and other rural landowners. Staff work with participating landowners to develop a plan and to access funding to help reduce the cost of the trees and planting.
The spring tree planting work was successful but there is still a lot of work left to do this year for forestry and stewardship staff at Ausable Bayfield Conservation. Staff members will be working closely with landowners, residents, and community groups throughout 2018 to provide grant support and technical expertise in planting and stewardship projects. Right now is one of the best times of the year to start site planning and preparation for tree planting later this year or early next year, according to staff. To find out more about tree planting and forestry services at Ausable Bayfield Conservation Authority visit their tree planting page at abca.ca at this link: https://www.abca.ca/page.php?page=tree-planting
Trees along watercourses improve water quality and provide wildlife habitat and travel corridors.
Ausable Bayfield Conservation sells more than 50,000 trees each year to more than 200 landowners through tree order programs in the spring and autumn. People in the watershed buy trees for conservation projects such as windbreaks, watercourse buffers, reforestation of erosion-prone slopes, or tree planting on marginal agricultural lands. Trees and windbreaks provide a variety of benefits for soil, water, and property owners. "Planting trees for windbreaks reduces soil erosion, wind stress on field crops, and benefits livestock as well," said Jean. "Windbreaks keep drifting snow away from homes and farms, reduce winter heating costs and summer cooling costs, keep spray application from leaving the field, reduce soil erosion, protect livestock from extremes of heat and cold, and more."
Share this article >