Hundreds at turtle release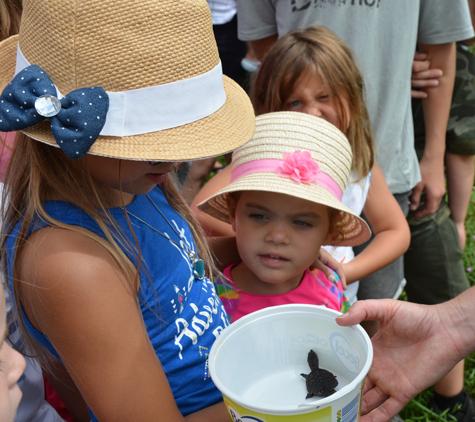 Hundreds attend third turtle hatchling release event at Morrison Dam Conservation Area (MDCA) east of Exeter
Huron Stewardship Council released turtle hatchlings back into wild; popularity of turtle release education event grows each year
A fun learning event for the public, to observe the release of turtle hatchlings back into the wild, keeps growing. There were 925 people who attended the third year of the turtle release event, held on Thursday, August 30, 2018 at Morrison Dam Conservation Area (MDCA) east of Exeter. The turtle event attracted 250 people in its first year in 2016 and 550 people the next year in 2017.
Huron Stewardship Council (HSC) supervised the release of the native Snapping Turtle hatchlings. Hundreds and hundreds of people were there to watch, learn, and take photos of, and with, the turtles. "We are overjoyed with the level of interest and support of turtle conservation today," said Rachel White, HSC Coordinator. "People from near and far joined us to learn about these special creatures and to raise funds for the Ontario Turtle Conservation Centre."
She thanked all the volunteers "who made this event a huge success." She also thanked Huron Stewardship Council's co-hosts at Ausable Bayfield Conservation and HSC's other partners in the event including Pinery Provincial Park; Huron County Library – Exeter Branch; and Scales Nature Park.
The turtle release event raised $1,200 to be donated to the Ontario Turtle Conservation Centre (OTCC), home of Ontario's largest turtle hospital. The money raised will go towards rehabilitating the many injured turtles currently at the turtle centre.
Trained personnel released the turtle hatchlings at the turtle release event in order to keep these species at risk safe, and to minimize stress on these wild animals. People young and young at heart got a chance to meet the animals up close without touching them and to have their photos taken with them. Hundreds of people also got the chance to meet turtles up close at the Scales Nature Park tent and even to hold snakes.
"We were excited to co-host this event and give the public a chance to engage with species-at-risk conservation work," said Cristen Watt, Species at Risk Technician for the Huron Stewardship Council. People had fun meeting the turtles and the snakes but it was also a great way to learn about Ontario's reptile species and about how to protect them. "Ontario's turtles face many threats, so the opportunity to get young people excited about their conservation is invaluable," said Watt.
Ontario's freshwater turtles face many threats including habitat loss and road mortality (death by cars and other vehicles). Thousands of Ontario turtles are hit by cars and other vehicles each year. In the spring, most of those turtles are pregnant females looking for a place to lay their eggs. In the summer and autumn, the majority are males looking for new ponds and new mates.
Turtles play a vital role in the local ecosystem helping to control aquatic vegetation as well as providing other ecosystem benefits, said Hope Brock, Healthy Watersheds Technician with Ausable Bayfield Conservation. "Turtles help clean our creeks and wetlands by eating algae and dead and decaying fish and other organisms," she said.
The turtle release event helps people learn about turtles and the role people can play in protecting turtles, according to Brock.
Huron Stewardship Council trained personnel released the Snapping Turtle hatchlings. (Event organizers remind people never to place invasive non-native turtle species – such as the Red-eared Slider – into local watercourses). All the turtles at the release event were hatched from eggs that had been laid in unsuitable locations or were from female turtles hit and killed by cars. HSC then collected the eggs and incubated them to save the turtle hatchlings.
To learn more visit hsc.huronstewardship.ca and the turtle web page at abca.ca or phone 519-235-2610 or toll-free 1-888-286-2610 to find out more about turtles.
Local people help turtles by creating nesting habitat on their properties, monitoring turtle sightings, helping turtles cross the road in the direction they're headed, helping to arrange transport of injured turtles to a turtle rehabilitation centre and working with their local communities and municipalities to build eco-passages and to erect turtle crossing signs.
Share this article >