Bannockburn Conservation Area
Where is Bannockburn Conservation Area?
Address: 76249 Bannockburn Line, Exeter, Ontario
Bannockburn Conservation Area is located at 76249 Bannockburn Line, northeast of Varna, between Brucefield and Bayfield, Ontario.
Open seven days a week, from sunrise to sunset, unless otherwise posted.
How do I get there?
Driving Directions:
From Bayfield or Brucefield take County Road 3 and turn north at Bannockburn Line.
This Google Map link may help as well:
Watch the video now:
Recreational Trails
Explore Bannockburn Conservation Area's almost two-kilometre (1.2 mile) recreational trail and travel through the six different natural communities including Wet Meadow; Eastern White Cedar; Deciduous Forest; Old Field; and Mixed Scrub and Marsh. Our multi-use recreational trails are accessible by foot, snowshoes, and cross-country skis, weather permitting.
Fishing
Fishing is permitted in compliance with applicable legislation. Outdoor Cards and Fishing Licences can be purchased from Service Ontario and other licence issuers. Please release any fish caught out of season.
A number of native species are found in the Bayfield River.
Rules and Regulations
CAUTION: These are nature trails. Trail surfaces and boardwalks may be slippery or uneven. Be especially careful during windy, wet and icy conditions.
Wear appropriate clothing, footwear and equipment for your preferred trail activity.
Stay away from fast-flowing water.
Rules
Rules protect the environment, you and your fellow users. These rules must be followed and are be enforced under the Conservation Authorities Act and Trespass to Property Act.
Please refer to signs and entrance kiosks for permitted and prohibited activities.
The property is closed to the public between sunset and sunrise.
Motorized vehicles, bicycles, e-bikes, horses, hunting, drones, alcohol use, campfires and camping are not permitted.
Dogs must be on a leash, under control, and you must clean up after your dog. Ensure your pet does not damage or interfere with vegetation or wildlife and does not interfere with others' enjoyment.
Do not remove or damage plants, trees, wildlife, signs or structures.
Stay on the trails and respect neighbouring landowners.
Fishing is permitted in compliance with applicable legislation.
Don't litter.
Please report vandalism and incidents to the Ausable Bayfield Conservation Authority (ABCA) at 519-235-2610 or toll-free 1-888-286-2610.
Tips to Enjoy your Visit
Be aware of the following to help you enjoy your visit.
Poison Ivy
Poison Ivy is a common, native plant in the Ausable Bayfield Conservation Authority watershed.
'Leaves of three, let it be. Berries white, take flight.'
Leaves may either have smooth edges or a few coarse teeth and may appear shiny. If you come into contact with Poison Ivy wash the affected area with hot soap and water as soon as possible, launder clothes in hot water.
Habitat: Open woods, fields and roadsides, disturbed areas.
Picture of Poison Ivy – Pending
Giant Hogweed
Giant Hogweed is an invasive, non-native plant introduced from Asia. It has large, flat-topped to slightly dome-shaped flower (similar to Queen Anne's Lace/Wild Carrot) and seed head and a bumpy or bristly stem. It can grow up to five metres in height. Skin contact with Giant Hogweed sap may cause severe skin rashes when exposed to sunlight.
Habitat: Roadsides, stream banks, waste areas, yards
Picture of Giant Hogweed – Pending
Giant Hogweed Fact Sheet - PDF file.
Stinging Nettle
Stinging Nettle is from half a metre in height to three metres tall. Stems and leaves are covered with short, stinging hairs which can cause irritation and inflammation if touched with bare skin. Flowers are in clusters with separate flowers attached by short stalks along a central stem about 1-7 centimetres (cm) long.
Picture of Stinging Nettle – Pending
Ticks
Ticks are present in the Ausable Bayfield Conservation Authority watershed.
Wear light-coloured clothing, so it's easier to see ticks
Wear closed-toed shoes
Wear long-sleeved shirts
Wear long pants, tucked into your socks
Use insect repellent containing DEET
After outdoor activity put your clothes in the dryer
Check yourself and your children:
Behind your knees
On your head
In your belly button
in your groin area
In your underarm area
On the back of your body – use a mirror, or ask someone to check for you
It's a good idea to have a shower as soon as you can to wash off any ticks.
If you discover a tick on your body remove it, place the tick in a secure container and contact your local public health unit
Directions for removal can be found here:
Why should I visit?
Bannockburn Conservation Area is home to six different natural communities: Wet Meadow; Eastern White Cedar; Deciduous Forest; Old Field; and Mixed Scrub and Marsh.
The trail starts with a boardwalk that is wheelchair accessible.
Early morning walks will reward you with sightings of deer; grouse; and numerous songbirds.
How do I find out more?
Download the Bannockburn Conservation Area Guide Book:
Virtual Tour by Video
Enjoy the video web log, or vlog (professionally-narrated video tour), by clicking link or button below:

Podcast
Listen to the podcast and take the professionally-narrated audio tour - simply click on link or button below:
(Right-click on the link to save to a folder.)

Bannockburn Walk a Mile Trail Information Project
Thanks to the Friends of the Bayfield River, and their partners - recognized in the Guide Book on this page - there is water quality information and education and technological enhancements at Bannockburn Conservation Area.
Enhance your Bannockburn experience by reading the new signs, taking the professionally-narrated audio (and video!) tour (links above), use GPS and pedomoters, and more!
Bannockburn Fall Hike
The annual Bannockburn Fall Hike was a family tradition for many years. While the hike is no longer organized as a formal event, we encourage you to hike the trails there, enjoy the audio or virtual tours to enhance your experience, and make it your own family tradition.
Measuring trees at Bannockburn Conservation Area
Find our more:
Permitted Activities
Hunting and motorized vehicles are not permitted.
For permitted (and prohibited) uses, please visit the 'Permitted Uses' web page at this link:
Thank you for visiting this page.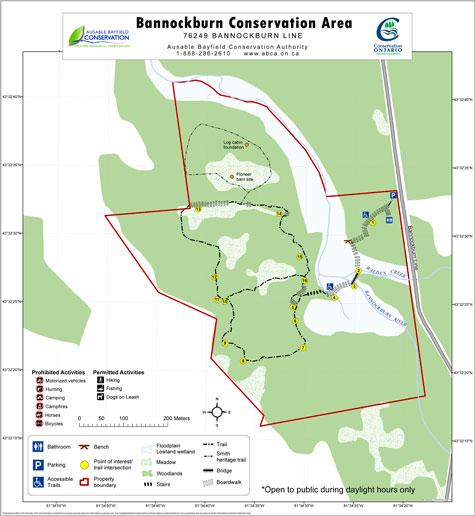 Ausable Bayfield Conservation Authority (ABCA) properties, including conservation areas and trails, are open for public use.
Ausable Bayfield Conservation has nine conservation areas where you can enjoy nature and stay active and learn about how to protect soil, water, and living things.
These areas have trails and parking lots. Some have privies. They are open year-round but there is no winter maintenance and most parking lots are not maintained in the winter
To learn more about conservation areas and plan your next visit, please click:
The ABCA owns thousands of acres of environmentally significant lands which are mostly forested. There is no formal trail system but people are welcome to visit for nature appreciation.
For information on all conservation lands (including conservation areas) visit:
Ausable Bayfield Conservation Authority (ABCA) properties and trails are open for public use contingent on following public health direction.
To learn more visit:
For current property status and updates please visit this web page: