Pedestrian Bridge for South Huron Trail Project
You can make your community safer and more active by supporting the Pedestrian Trail Bridge Project.
With your help, we can build Jones Bridge. You can help turn this dream into a reality.
To donate, call 519-235-2610 or toll-free 1-888-286-2610 or donate by PayPal by clicking button below:
The project goal for the pedestrian bridge is $290,000 and more than $180,000 has been donated or pledged towards this goal.
Provided by CoolFundraisingIdeas.net
You may also call one of your community representatives on the community working group.
Right now, people have to walk beside vehicle traffic on Morrison Line to enjoy both sections of the South Huron Trail. You can help us change that by providing a safer, more scenic alternative.
The proposed bridge is downstream of Morrison Dam. Jones Bridge would give trail users an alternative to walking along Morrison Line.
To find out more about the Pedestrian Trail Bridge Project download the brochure at this link: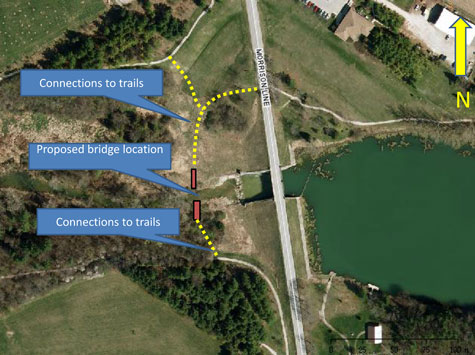 The proposed bridge could be the same style as the Stirling Bridge. It would include a steel bridge, with boardwalks at both ends, and links to the existing trails.
The proposed bridge may be suitable for pedestrians, cyclists, strollers, wheelchairs, the South Huron Trail Mobile (for people with limited mobility), and winter visitors. The completion of this project could enhance use of the trail for decades.
The use of the MacNaughton-Morrison Section of the South Huron trail has increased and vehicle traffic on Morrison Line seems to have increased as well. That two-lane municipal road is the only way for people to link the north and south sides of the MacNaughton-Morrison and Morrison Dam Conservation Area sections of the South Huron Trail.
The speed limit has been reduced and trail crossing signs have been installed. A new pedestrian trail bridge would be yet one more added feature for trail users if this new pedestrian bridge is built downstream of Morrison Dam.
The Ausable Bayfield Conservation Foundation was incorporated in 1974 as a registered, charitable, non-profit organization that promotes accessible trails and other conservation projects in Ausable Bayfield watersheds.