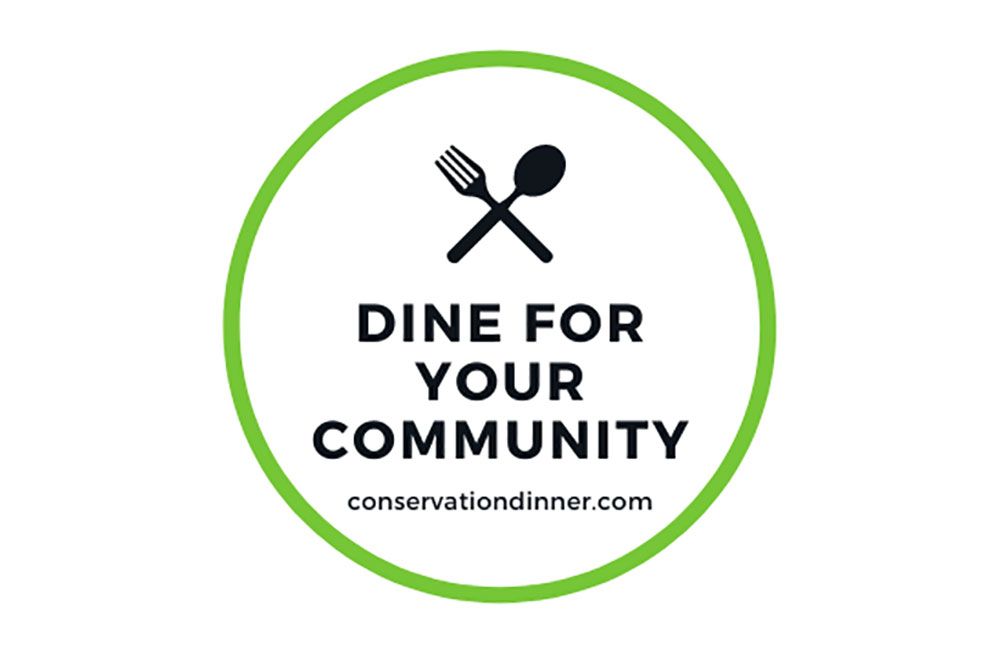 Participating local restaurants support Virtual Conservation Dinner by donating some proceeds to local community projects
Virtual Conservation Dinner and Online Auction Committee invites public to support participating local restaurants and support community conservation projects at same time in April 2021
The Conservation Dinner auction event is online this year (2021) but people can still enjoy fine dining while supporting their community this year. Some participating local restaurants are donating some proceeds from special entreés during specific dates in April.
The Conservation Dinner has created a new web page at conservationdinner.com to list the restaurants which are offering these special fundraising meals. Visit conservationdinner.com/restaurants for the participating restaurants so far. The Dinner Committee is asking you to 'dine for your community' in order to 'support local projects one meal at a time.'
More restaurants are expected to join the campaign in time for the April 15-22 online bidding period for this year's Dinner, which is online for the first time.
The Conservation Dinner is a partnership of Exeter Lions Club, Ausable Bayfield Conservation Foundation, and other community partners. It has raised more than $1.2 million for projects in local communities over 30 years.
This year, because it's not safe to have a large in-person event, the committee is hosting an online auction and is inviting people to consider purchases of these special dinners, whether take-out or dine-in, at the participating restaurants.
Dave Frayne is Chair of the Virtual Conservation Dinner and Online Auction Committee. He says people can support conservation projects by bidding on the online auction between April 15 and 22. They can also support local conservation through purchase of these special restaurant 'conservation dinners.'
"I would like to thank the restaurants which have generously offered to take part and I invite other restaurants to take part as well," the Chair says. "This is a way people can support their local restaurants and also support projects in their community."
The Committee invites the public to order these special meals and take them home to enjoy their home-version 'Conservation Dinner' while bidding on great items at the online auction.
Visit conservationdinner.com and abca.ca to find out more about the online auction, the #VirtualConservationDinner entrees and other ways to support your community.
The online auction offers a chance to "get some great deals, amazing items and experiences, and support your local community."
There are several ways people can support #VirtualConservationDinner community conservation projects.
You can:
Purchase 50-50 raffle draw tickets at ExeterLions5050.com;
Order designated restaurant meals on designated dates at participating local restaurants;
Bid online between April 15 and 22
Support restaurants and other local businesses that generously donate to the Dinner each year; and
Donate directly to the Dinner.

This fundraiser supports projects in local communities. Projects include parks and conservation areas; accessible nature trails in Bayfield, Clinton, Parkhill, Lucan, Arkona, Exeter, and Varna; outdoor nature education; a $1,000 student environmental bursary for students in local communities; a summer job at Ausable Bayfield Conservation for a senior secondary school student; turtle monitoring in Port Franks and Ailsa Craig; aquatic habitat studies in Old Ausable Channel at Grand Bend; and other projects.
Share this article >