Municipality of Bluewater feature article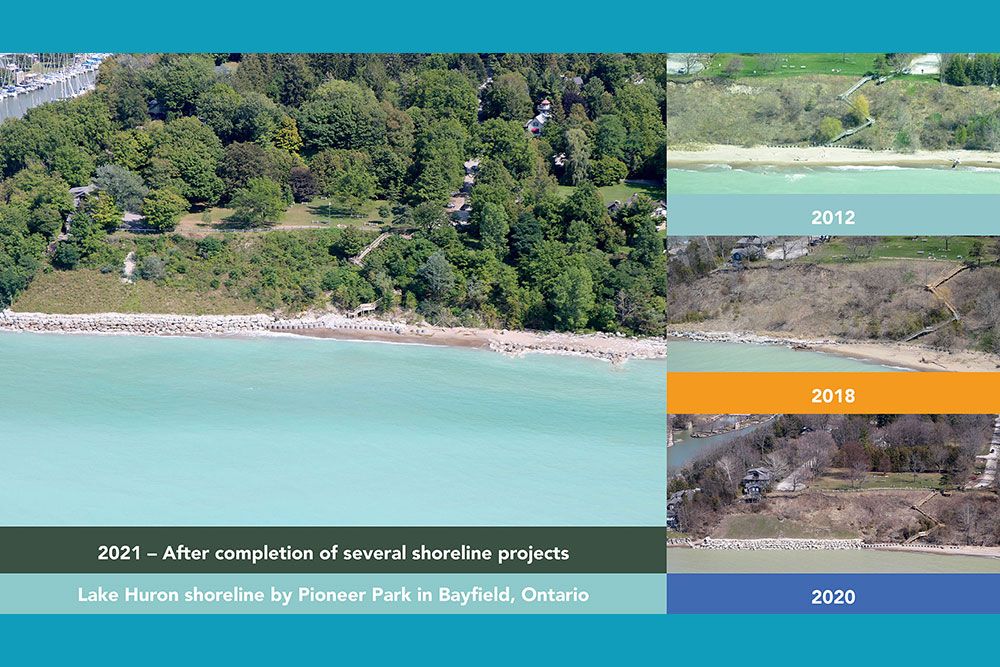 Park association has worked for decades maintaining Pioneer Park in Bayfield in the Municipality of Bluewater
Landowners, residents, and volunteers in Municipality of Bluewater help to maintain beautiful parks, trails, and nature areas
By Meghan Tydd-Hrynyk, Planning and Regulations Officer, Ausable Bayfield Conservation Authority (ABCA)
When we think of the Municipality of Bluewater we think of three historic villages (Bayfield, Hensall, and Zurich) and destinations for culinary and shopping and cultural experiences. We think of five beautiful Lake Huron beaches and we think of countryside and we think of schools. We think of trails and nature areas including Bannockburn Conservation Area. We also think of all the landowners and residents and volunteers who devote countless hours towards creation of a healthy watershed community.
There is so much we could share about this vibrant community if we had the time. Since we only have so much space in this article, I would like to focus today on a very special place in Bluewater – Pioneer Park. (This is a very special place cared for by a very special group of people, the Pioneer Park Association.)
Pioneer Park is a privately owned park. It is located on the shoreline of Lake Huron in the scenic Village of Bayfield in Ontario, Canada. In 1945 local resident Lucy Woods, with the assistance of Jessie Metcalfe and John Stewart, organized the purchase of the land for a park. The land was incorporated and named Pioneer Park after an application for a charter was granted by the Government of Ontario in 1947.
The mission and purpose of the Pioneer Park Association is to promote the health and enjoyment of the Village of Bayfield and vicinity through owning, preserving, improving and managing a park or parks open to the public without charge and to undertake other projects for the welfare of the community.
In order for residents and vacationers alike to access the beach and maintain the parkland at the top of the slope, it was decided to complete shoreline protection work at the base of the slope along Pioneer Park Association property. In 1984, the Association contacted Ausable Bayfield Conservation Authority (ABCA) to install large 4-5 foot diameter concrete storm sewer pipes which would be placed along the toe of the bank and filled with sand/gravel. This method was employed and can still be seen along the beachfront in certain locations today.
In 2011, a project was undertaken in cooperation with ABCA and the Municipality of Bluewater. A geotechnical investigation was completed for the top of the bank near Bayfield Terrace. A coastal engineer was employed to design 100 feet of Pioneer Park's shoreline protection project. A permit was issued by ABCA in January 2012. The work was completed in May 2012.
In 2018 more work was required along the shoreline of Lake Huron. Due to the high waters, the bank was sustaining ongoing erosion. A collaborative project between the Municipality of Bluewater, Pioneer Park and a neighbouring property owner was undertaken to help slow down the erosion process. A geotechnical engineer was employed to drill two boreholes. The project was designed by a Coastal Engineer for all three properties. Subsequently, three permits were issued to each party in November 2018.
A species-at-risk investigation was undertaken on the lake bluff at Pioneer Park by ABCA staff in September 2018 to ensure that any disturbance to the bank during construction was not going to have a negative impact on the environment. The work was completed in May 2019.
A large storm on November 1, 2020 caused more erosion and slumps to the bank of Pioneer Park.
Pioneer Park was issued a minor works permit from ABCA to address the further erosion. Detailed drawings were developed by Pioneer Park Association. The slumps that developed from the November 1, 2020 storm could not be fixed at this time because the equipment couldn't reach the top of the slump areas. Both ABCA and the Ontario Ministry of Natural Resources and Forestry have given Pioneer Park extensions to fix the bank slumps. The work is scheduled to be completed before the end of 2021 with specialized equipment that will reach the site while maintaining minimal damage to the slope and beach area.
The ongoing collaborative approach with multiple landowners and agencies has allowed Pioneer Park to realize its mission statement. Looking at the tranquil park, people may not know all the dedication and hours that have gone into maintaining this space.
Pioneer Park is one notable example of residents in the Municipality of Bluewater working to the benefit of their community. There are many others. For instance, in 2020, Blue Bayfield won Ausable Bayfield Conservation's Conservationist of the Year Award:
In Spring of 2020, the Huron-Perth Boomers magazine published an article, by Ben Forrest, about the work of the Huron Tract Land Trust Conservancy (HTLTC). The article described how the Bayfield River Valley Trail Association (BRVTA), along with many generous community donors, raised more than $70,000 to acquire the Bayfield River Flats and to donate it to the land trust for permanent preservation as a nature area.
To read the article visit:
Ausable Bayfield Conservation's Healthy Watersheds and Forestry and Stewardship staff have worked closely with the Bluewater community on tree planting and stewardship projects and on rain barrel sales and rain garden establishment, a Stormwater Stroll (PDF file), and much more.
The Main Bayfield and Bayfield North communities have created and implemented community watershed plans to protect and improve water quality, forest and wetland conditions, and soil health.
The Fred A. and Barbara M. Erb Family Foundation, a foundation dedicated to advancing an environmentally healthy and culturally vibrant metropolitan Detroit and a flourishing Great Lakes ecosystem, has generously invested considerable resources to support Great Lakes stewardship in Bayfield and area.
Volunteers from Bluewater Shoreline Residents' Association (BSRA) have had an integral role, for about 15 years, helping ABCA staff with water sampling and monitoring of Escherichia coli (E. coli) at beaches along Lake Huron. The dedication of these and other citizen scientists from Bluewater helps provide valuable data, to numerous agencies, about our local water quality. We simply could not run the program without their help.
Those are all articles for another day! Today we would like to congratulate the Pioneer Park Association on three quarters of a century of stewardship of Pioneer Park. We would also like to thank all the residents, landowners, and volunteers in the Municipality of Bluewater for many decades of partnership on conservation projects that help to create a healthy watershed community.
– In 2021, Ausable Bayfield Conservation Authority (ABCA) is celebrating its 75th anniversary (1946-2021) and 75 Years of Conservation. ABCA is honouring its 12 member municipalities, during this anniversary year, for their partnership, over the past 75 years, which helps to protect life and property, water, soil, and habitat for all living things. To learn more visit abca.ca and this web page:
#AusableBayfield75th
PHOTO COLLAGE AT TOP OF PAGE: The collage of four photos, at the top of this page, includes main photo (at left) showing the toe of the Lake Huron bluff, near Pioneer Park in Bayfield, in 2021, after the completion of several shoreline projects over the years. The other three photos show this same stretch of Lake Huron, in the Municipality of Bluewater, in previous years (2012; 2018; and 2020).
Share this article >