Feature artist in 2023 is Dark Horse Estate Winery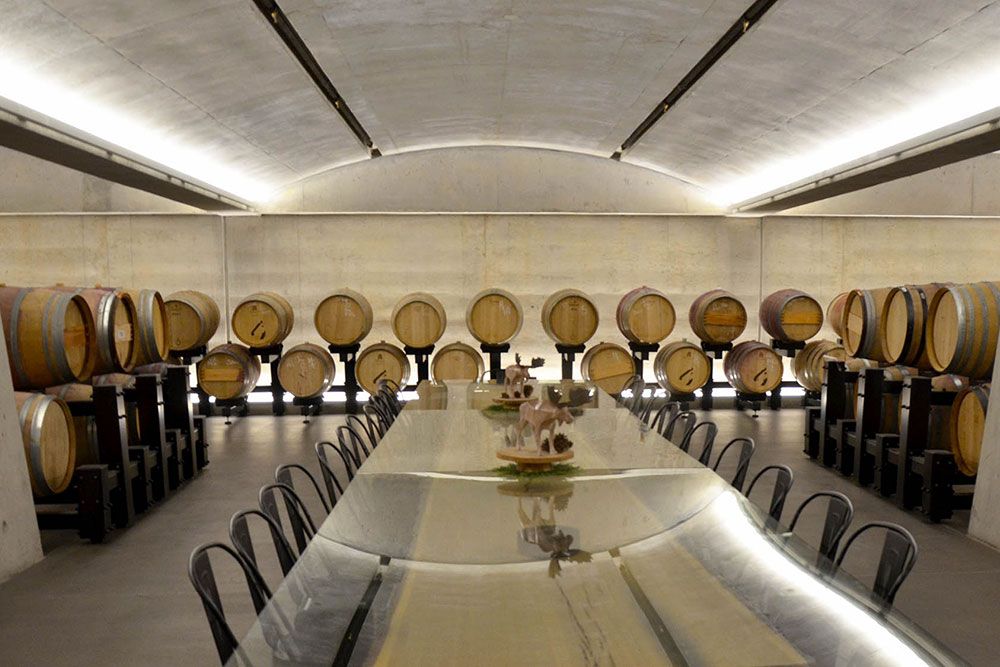 Conservation Dinner Committee announces 2023 Feature Artist is Dark Horse Estate Winery Inc.
Each year, the Conservation Dinner Committee selects a feature artist. Feature artists over the years have included painters and other visual artists, an ice sculptor, craftspersons, a culinary artist, a quilter, and other creative disciplines. This year, in 2023, the Committee has named its first feature artist in the field of winemaking.
"The Conservation Dinner is honoured to name Dark Horse Estate Winery Inc. as the Feature Artist for 2023," said Dave Frayne, Chair of the Conservation Dinner Committee. "Dark Horse Estate Winery has excelled in the art of winemaking and combines their artistry in creating fine wines and memorable wine appreciation and culinary experiences with their personal dedication to their local community."
Co-founders John and Sue Ann Rasenberg, along with their daughter Ashley Horlor, Vice President of Operations, and son-in-law Craig Horlor, Vineyard and Facility Manager, established the 85-acre winery and vineyard in 2014. Ashley said the family, and the winery, is proud to be named as the 2023 Feature Artist. "We've been avid supporters of the Conservation Dinner for many years," she said. "It's a great cause."
The Dark Horse Estate Winery Inc. feature, for bidding at the auction, is a Five-Course Wine and Food Pairing for Six People, in the Barrel Cellar at Dark Horse Estate Winery, with Sommelier Andrew Cieszkowski. This feature experience pairs the fruits of their labours in winemaking with the fruits of the labours of our local agricultural producers.
The artistry of Dark Horse Estate Winery is found in its fine wines and in its culinary experiences. The winery offers a range of wines for every palate ranging from younger wines to more complex wines. Their varietals include an outstanding Marquette (they are the first winery to have a wine of this hardy winter grape varietal in the LCBO). "People are really enjoying it," Ashely said. Some of their other renowned wines range from their Chardonnay to their Baco Noir among others.
Dark Horse Estate Winery's award-winning wines reflect the unique terroir of their winery near Grand Bend, providing a fruit taste that is the envy of many destinations, and the work of Vineyard and Facility Manager Craig Horlor and their winemaker and consultant, from the Niagara winemaking region, Marc Pistor.
During the first few years, Dark Horse Estate focused on perfecting their wines. Now, having built a foundation of almost a decade of exceptional winemaking, the winery has added culinary experiences to their vineyard with a fine dining area with an exquisite view of the barrel cellar.
"We now offer culinary experiences within the winery," Ashley said. "We felt it was time. Our culinary experience is farm to table with food sourced locally, incorporating the bounty of Huron County and area. It's lovely to have this kind of fine dining experience in Huron County."
The winery not only focuses on the quality of their grapes and their wines and their food but they also work to be leaders in sustainability, adding best practices such as no-till. "We're an agricultural destination and a culinary destination too," Ashley said.
Culinary experiences take place in the dining area by the Barrel Cellar and also for small groups in the VIP Lounge.
Even during the challenges of the past couple of years, when the entire events industry was affected, Dark Horse Estate Winery remained thriving, adapting to change and carrying on strong online orders. In fact, delivering wine during the past two years has been a chance for Craig to get to know his customers better and to build relationships.
The Dark Horse name reflects the family's love and passion for horses, that goes back generations. The name also reflects the fact that a dark horse is an unexpected surprise just as it is such a delight to find this amazing winery and these amazing wines here in our local watershed community. If a dark horse is defined as a competitor not well known previously, reaching sudden prominence, and surpassing expectations, then this estate winery is aptly named.
Dark Horse Estate Winery has grown to be a leader in the burgeoning Huron County winemaking industry. Dark Horse Estate's wines have won awards at the Canadian National Wine Awards.
"We have a wine for everyone," said Ashley. "We have everything from younger wines to deep, full-bodied, rich, complex wines."
The Toronto Star called the estate winery "Ontario's new destination for wine lovers."
The winery is located at 70665 B Line, east of Grand Bend. This destination winery is located just minutes from the scenic shores of Lake Huron and next door to the iconic Huron Country Playhouse. The centrepiece of the estate is a 31,000-square-foot manor house. Dark Horse's manor house includes a full-service banquet facility; ballroom; state-of-the-art production facility; barrel cellar; dining area; tasting room; VIP Lounge; and patios overlooking the vineyards.
The winery encourages visitors to " ... come for the sunsets, stay for the wine."
To learn more about Dark Horse Estate Winery Inc. visit the Dark Horse Estate Winery Inc. website.
Ashley credits the entire talented winemaking and viticulture team at Dark Horse for the winery's success crafting fine wines. Dark Horse Estate has created success by building a memorable local experience that includes domestic vineyards, a tasting room where guests can witness winemaking first-hand, combining world-class quality with hometown Huron County hospitality, pairing local fare with their Ontario wines, and expanding experiences that combine wine appreciation with culinary enjoyment.
John and Sue Ann have combined a passion for fine wine and craftsmanship with a love of farming and Huron County to grow the winery into a major destination in the area.
Co-founder John Rasenberg made a career over forty years in the electrical and mechanical contracting business but as a kid who grew up on the farm he has never lost his love of agriculture so this agri-tourism business was a good fit for him and his family. John has " ... combined his passion for farming, a strong entrepreneurial spirit, and the dark, rich, loamy soil of his beloved Huron County to build an agri-tourism destination winery that would engage and delight visitors from around the world."
Co-Founder Sue Ann Rasenberg brought her interior design flair and attention to detail to the enterprise and a new tourism destination was born. "She put a lot of heart and soul into this," said her daughter, Ashley.
The Conservation Dinner takes place on Thursday, April 20, 2023 at South Huron Recreation Centre at 94 Victoria Street East in Exeter. Tickets are $100 each. Patrons receive a charitable gift receipt, for income tax purposes, for a portion of that amount.
To buy tickets to the Conservation Dinner, or to donate, phone 519-235-2610 or toll-free 1-888-286-2610 or email info@abca.ca or visit the Ausable Bayfield Conservation office east of Exeter at 71108 Morrison Line (just south of Highway 83). Find out more at conservationdinner.com and the Ausable Bayfield Conservation website.
About the Conservation Dinner
The Conservation Dinner auction event has raised more than $1.285 million for the community over 32 years. The Exeter Lions Club has been co-partner, with Ausable Bayfield Conservation Foundation and the watershed community, on the Dinner since 1991. Net profits are split 50-50 between community conservation projects of the Conservation Foundation and community conservation projects of the Exeter Lions Club.
The Conservation Dinner gala charitable auction and dinner supports projects that include accessible nature trails in Bayfield, Clinton, Parkhill, Lucan, Arkona, Exeter, and Varna; making it possible for more students to experience outdoor nature education; a $1,000 student environmental bursary benefitting students in local communities; a summer job at Ausable Bayfield Conservation for a senior secondary school student; turtle monitoring and events in Port Franks and Ailsa Craig; aquatic habitat studies in Old Ausable Channel, Grand Bend; and projects like nature day camps, fishing derby and Owl Prowl, and parks and conservation areas.
The annual charitable event features live and silent auctions of art and other distinctive items including travel packages and sports and entertainment memorabilia. The Dinner also includes special raffles, general raffles, appetizers, wine tasting, fun and fellowship, and a wonderful meal.
After two years of hosting the charity auction online, the Conservation Dinner Committee is excited to hold this community fundraiser in person in 2023.
Share this article >