Award-winning student speaks on Great Lakes algae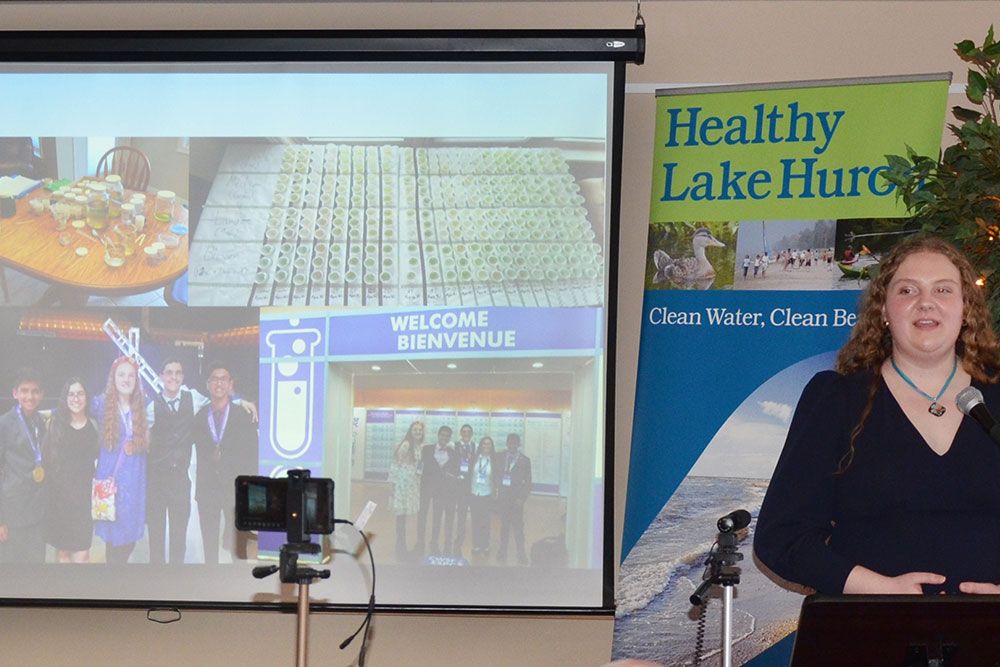 Stockholm Junior Water Prize winner Annabelle Rayson, of Sarnia, speaks about research on preventing algae blooms
Award-winning student from Sarnia, Annabelle Rayson, presents on Algae Blooms and Research on How to Treat and Prevent Them in the Great Lakes at Ausable Bayfield Conservation's 2023 Partner Appreciation Evening
Close to 60 people attended Ausable Bayfield Conservation's Partner Appreciation Evening on March 16, 2023 and heard a presentation by Annabelle Rayson, winner of the 2022 Stockholm Junior Water Prize.
The Sarnia student provided the keynote presentation about Algae Blooms and Research on How to Treat Them and Prevent Them in the Great Lakes. Annabelle discussed her award-winning research on how distinct genotypes of Daphnia magna (a type of Zooplankton, a tiny organism that eats algae, and a naturally occurring keystone species to our Great Lakes), might be used to eat algae and reduce algal blooms. Annabelle told the crowd about five experiments and 195 tests she performed in her research. She conducted tests that included different species of Daphnia magna and algae to determine which genotype would work best at consuming the more toxic forms of algae. In her tests, she found a genotype that she said is a promising candidate for the treatment of harmful algae blooms.
Annabelle is hoping to continue and further test her research and, upon successful testing, obtain the approvals necessary to employ zooplankton enhancement to reduce algae blooms. "I am hoping to continue my research at university to eventually have it tested and approved ... so I can implement it as a solution for harmful algae bloom treatment and prevention," she said.
The proposed strategy of increasing the presence of this naturally-occurring zooplankton in the Great Lakes would be, she said, " ... a sustainable method that can actually prevent algae blooms." It could also prevent exposing lakes to toxic algaecides and other harmful chemicals. "The future sustainable algae bloom prevention will be much cleaner, which will help to ensure clean water access and healthy lakes for all," she said.
Annabelle is a Grade 12 student from St. Patrick's Catholic High School in Sarnia. She received the Stockholm Junior Water Prize, in person, from HRH Crown Princess Victoria of Sweden. Annabelle has attended three national, Canada-wide Science Fair competitions, including 2022, and has been an award winner. Annabelle took part (2022), in the Netherlands, in the European Union Contest for Young Scientists.
The annual early-evening event, to honour community conservation partners and to present the Conservationist of the Year Award, was held in person for the first time since 2019. It took place at Ironwood Golf Club east of Exeter.
The speaker's presentation was broadcast live on the Ausable Bayfield Conservation Facebook page.
Share this article >