New signs on trail make it easy to donate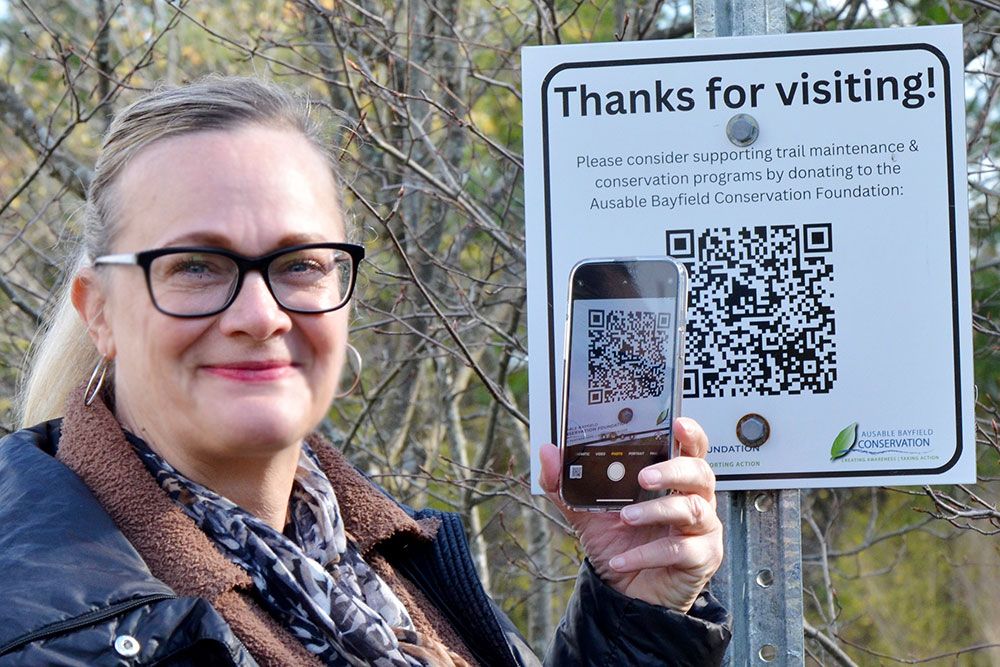 Ausable Bayfield Conservation installs new quick response (QR) code signs on trails to make it easier for people to donate to local trails, conservation
Ausable Bayfield Conservation installs QR code signs at conservation areas, trails so people can use link to donate to local trails, conservation programs
New signs make it easier for trail users to donate to support local trails, conservation areas, and conservation programs.
Ausable Bayfield Conservation Authority (ABCA), on behalf of Ausable Bayfield Conservation Foundation (ABCF), has installed the new signs, with quick response (QR) codes, at local conservation areas and trails.
Dave Frayne is ABCF Chair. He said public support of trails and conservation areas is extremely important to be able to maintain these areas of habitat, nature and recreation. "We rely on local donations for trails, conservation areas and other local conservation programs," he said.
"We hope people who use conservation areas and trails in the watershed will use the link on the signs to donate to a trail, conservation area or another conservation program of their choice."
The ABCF Chair says quick response or QR codes are easy to use for people with smart phones. A QR code is similar to a bar code at a store. The code is an image made up of black and white squares and the image can be read by a machine. A smart phone can read the information and provide the user with a convenient link to a website address. People can click on the camera function of their phone, point the phone to the sign as if taking a photo, and then a link should come up to an Ausable Bayfield Conservation Foundation donation page. People can visit that page and then make a donation, to the Foundation, to a program of their choice.
The new signs give people one more convenient way to donate, he said. There are other ways to donate as well. People may choose to donate by phone (at 519-235-2610 or toll-free 1-888-286-2610), in person, by mail, through the donation web page, or by e-Transfer using the email address donations@abca.ca (donors should specify, in the e-Transfer message box, what the donation is going towards).
The Ausable Bayfield Conservation Foundation is a community organization and corporation formed in 1974 to support conservation programs in the Ausable Bayfield watershed area. The Conservation Foundation has its own Board of Directors and is distinct from the conservation authority but shares, with its sister organization, the values of protecting water, soil, and habitat for all living things.
The Conservation Foundation has a mission to foster financial partnerships supporting watersheds and a vision of active community partnerships sustaining healthy watersheds. ABCF's mandate is to raise funds, provide funds to needed community conservation programs, foster partnerships, and acquire and maintain conservation lands.
The link on the QR code signs takes people to a PayPal donation page. On that page, people can select where they would like their donation to go. For instance, they could choose to support South Huron Trail, or a different local trail or conservation area.
They could choose to support another conservation program such as tree planting; Commemorative Woods; habitat for turtles through and other wildlife through wetlands; educating the next generation of land and water stewards through conservation education; Rock Glen Conservation Area and Arkona Lions Museum and Information Centre; or they could support a new pedestrian walkway at Bayfield River Flats.
They could also select all programs or a conservation program of their choice.
There are signs at several conservation areas and trails throughout the Ausable Bayfield watershed area.
People can enjoy conservation areas and trails throughout the watershed, according to the ABCF Chair. "That is thanks to all the generous donors who have made these areas possible," he said.
To learn more about nature appreciation and recreation opportunities, please visit the Ausable Bayfield Conservation parks and recreation web page.
Share this article >