Conservationist Award Winner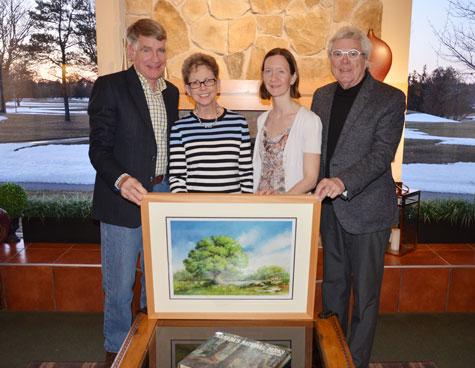 Denfield-area family wins Conservationist of the Year Award
Rick Quinn and Diane Hawthorne and their family receive limited-edition print in recognition of their work on wetland complex on their property in Middlesex County
Rick Quinn and Diane Hawthorne, of the Denfield area, and their family, are winners of the Ausable Bayfield Conservationist of the Year Award. The Middlesex County family received the award on Thursday, March 22, 2018 for their work developing and maintaining a large wetland complex on their property. Ausable Bayfield Conservation Authority (ABCA) Vice Chairman George Irvin presented the award to the family at the annual conservation awards evening which was held at Ironwood Golf Club, east of Exeter. John Fraser, Constituency Assistant to Lambton-Kent-Middlesex MPP Monte McNaughton, presented the award winners with a scroll as a certificate of recognition on behalf of the MPP. Huron-Bruce MPP Lisa Thompson also attended and congratulated the winners.
The award winners live in the former Lobo Township, in the Municipality of Middlesex Centre, in the Nairn Creek Watershed. The prize includes a limited-edition conservation print of the Latornell Tree, by Bonna Rouse, one of 310 made for a special edition by Conservation Ontario. Ausable Bayfield Conservation will also donate towards a tree and plaque at a Commemorative Woods site.
Angela Van Niekerk, Wetlands Specialist, introduced and thanked the Conservationist of the Year Award recipients. "It is very inspiring to work with landowners with such dedication, generosity and commitment for their land," she said.
Rick Quinn and Diane Hawthorne and their family chose to retire 38 acres of wet and heavy clay fields in the headwaters of the Nairn Creek Watershed. The awards evening programme described the project as a perfect example of wetlands restored in the headwaters. "Holding back water at the top end has beneficial impacts on every creek, river and lake downstream by reducing downstream flooding, erosion and sedimentation," according to the programme notes. The landowners helped to create a large wetland complex with five different wetland pools restoring more than eight acres of wetland area; and planted, around the basins, with 6,257 wetland plants and shrubs in addition to the restoration. They planted, on the remaining 20 acres the following spring, with 15,180 native seedlings including Black Cherry, Silver Maple, Bur Oak, Red Oak, White Pine, and White Spruce.
The family has also continued to manage the area to ensure long-term success and the flourishing of the site, according to Ausable Bayfield Conservation staff. The site is now used by frogs, amphibians, waterfowl, and other birds. Trees and plants are growing well and basins are holding their water levels, according to wetlands specialists.
"Thank you very much for this honour," said Quinn, in accepting the award. He thanked Ausable Bayfield Conservation staff members, including forestry and stewardship specialist Ian Jean and wetland specialist Angela Van Niekerk. "Truly, right up here with us should be Angela and Ian," he said. "We salute their professionalism and their dedication."
This year, the annual awards event was held on World Water Day and included the 2018 release of updated Ausable Bayfield Watershed Report Cards. The conservation authority issues these reports, on local forest and water resources, every five years.
Ausable Bayfield Conservation also presented service awards to ABCA Directors and Staff. Directors Doug Cook, Ray Chartrand, and Wayne Hall received awards for three years of service. Denise Iszczuk, Conservation Educator, received a ten years of service award. The conservation authority presented fifteen-year awards for service to Davin Heinbuck, Water Resources Coordinator; Sharon Pavkeje, Corporate Services Assistant; Tony Drinkwalter, Field Services; and Tracey McPherson, GIS/IT Coordinator.
The Conservationist of the Year award winners have allowed visitors, with prior permission, to access the site and tour their wetland restoration project, and have hosted tour groups, interested landowners, and monitoring projects. The award "recognizes their personal dedication, generosity, and commitment to this important project," the programme said. Rick Quinn and Diane Hawthorne, and their family, are active in conservation efforts both locally and globally. In addition to their local work, on a global scale they help to protect critically-endangered Great Apes, in Africa and Indonesia, through Docs 4 Great Apes, a registered Canadian charity and not-for-profit organization founded by concerned health care professionals. Whether it is at a local level or global level, Quinn said it is important to identify a need and to give the people who want to help ways to help and the professional technical support they need.
Ausable Bayfield Conservation holds the annual awards evening to thank partners in conservation, including landowners, residents, volunteers, and community organizations; federal and provincial governments and representatives, departments, ministries; counties and municipalities; directors and staff; funding partners; and other partners.
At the March 22 conservation awards evening, Judith Parker, Corporate Services Coordinator with Ausable Bayfield Conservation, acknowledged staff members who donate, through payroll deduction, for the privilege of being able to dress casually and who support local and world charities. Most recently, she said, Dress Down Day Fund members have donated $400 to the Jones Bridge Pedestrian Trail Bridge Project on the South Huron Trail and $400 to the Mennonite Central Committee to assist in bringing clean drinking water to an overseas community in need.
Past winners of the Conservationist of the Year Award include: Mels and Ruthanne van der Laan, Cold Stream Ranch; Lambton Shores Phragmites Community Group; Cordner Farms – Jane Sadler Richards and Doug Richards; Bob Norris; Peter Darbishire; Ann and Bill Phelan; Joan and John Love; Exeter Lions Club; Patricia Down (posthumously) and Robert Down; Lorne Teeple (posthumously); Grand Bend Community Foundation; Stewardson Dairy; Boys' and Girls' Club, London (Middlesex ECO Crew; Shadyside Farms, Paul and Vic Hodgins; Ray Letheren, Friends of the Bayfield River; Environmentally Concerned Citizens of Lambton Shores; Andy deBoer; Stephanie Donaldson; Joan and Everet Van Sligtenhorst; John MacPherson; Straw Family; George Cantrick (posthumously); David McClure; Brian Arnold; Fred Dobbs; Lions Club of Arkona; Village of Arkona; Township of Hibbert; Stephen Bright; Dinney Funeral Home; Huron Fish and Game Club; Garry Palmateer; Lions Club of Clinton; Bluewater Recycling Association; Andrew Dixon; Eleanor and Ralph Smith; Elmer Trick; Armstrong East Cottage Association; Lambton Wildlife Inc.; David Ball; Adelaide Township; Arnold Westlaken; Tuckersmith Township; Van Loon Farms; Village of Hensall; Bob Montgomery; Jim Reeve; DEL Farms; Bud Walker; Margaret and Bert Daynard; Ausable Anglers Club; Carfrey Cann; Keith Connelly; John Deeves; Nancy Glendinning; Hayter Turkey Farms; Peter Rombouts; Bill Thirlwall; Ausable Nomads; Dearing Farms; Huron Soil and Water Conservation District; Murray and Ron McRae; Huron County Board of Education; Thomas Doherty; Huron Centennial Public School; Jerry Giesen; Claybird Gun Club; Wayne Woods; Bayfield Anglers' Association; and Jay Campbell.
The March 22 awards evening also included a video of Ausable Bayfield Conservation Foundation Chairman Bob Radtke presenting the Student Environmental Award $1,000 student bursary to Marina Lather of Centralia.
Ausable Bayfield Conservation made an offsetting donation to Carbon Footprints to Forests (footprintstoforests.com) on behalf of everyone who attended. Trees will be planted locally, and maintained for the long term, to capture the equivalent of carbon dioxide and other greenhouse gases (GHGs) produced in travel to the event.
Share this article >