Local flood data important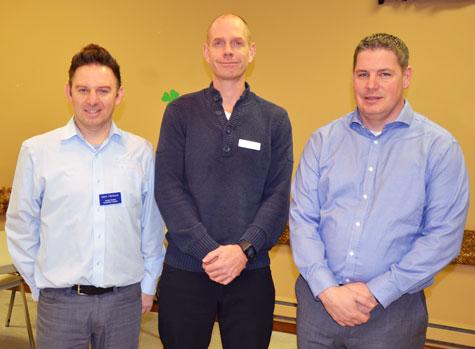 Harriston flood response underlines importance of local precipitation data, flood emergency meeting is told
Local emergency management coordinators, firefighters, police officers, public health personnel and municipal staff were among the more than 25 people who attended the annual Flood Emergency Planning Meeting hosted by Ausable Bayfield Conservation Authority (ABCA) on March 20, 2018. Ironically, the meeting had been postponed from its original date in February because of heavy flooding during that month.
Steve Jackson, Flood Forecasting Coordinator with Maitland Valley Conservation Authority (MVCA) and Chris Harrow, Fire Chief, Town of Minto, talked about the June 2017 storm event which caused significant flooding in a number of areas, including Harriston. Jackson focused on the weather and forecasts leading up to the Harriston flood and Harrow provided a municipal perspective on flood response, communications with the public and media, and lessons learned.
Harriston is prone to flooding during rain events anyway but the high June rains affected a community that was already vulnerable to storms, according to Jackson. The storm "couldn't have picked a worse spot to hit," he said. Following a previous flood event, Maitland Conservation and the Town of Minto had worked together to ensure more rain gauges were in place and Jackson said that additional monitoring and data was helpful in the hours leading up to the flood. "It was a major step forward," he said.
The flood forecasting coordinator recalled that, based on rainfall projections predicted the evening before the Harriston flood, he went to bed that night thinking he was going to get a good night's sleep. That changed as the night went on. Although early forecasts didn't suggest an unusual flood circumstance, a local rainfall alarm indicated high rainfall so the flood forecasting coordinator decided to set his alarm for 2:30 in the morning to check for any new data, forecasts, or federal and provincial bulletins. It was at that time he began to get a fuller picture, from data including alarms at local rain gauges, that this storm was going to be bigger than expected.
Early projections of possible rainfall of 25 millimetres grew to forecasts of 40 mm and 50 mm but ultimately the actual amounts in the Harriston area topped 70 mm by 4:30 a.m. in the morning and the rainfall there eventually reached 160 mm by about 6:00 a.m.
A severe thunderstorm watch was issued by Environment and Climate Change Canada before the Harriston flood but "no one saw this event coming" to the level of what actually hit Harriston, according to Jackson. Unexpected effects of a rare weather system impacted by a tropical storm in the Gulf of Mexico, and heavy rainfall that affected readings at radar stations, affected some of the early national forecast data. Sometimes a weather system goes through and "fizzles out." That was not the case in June of 2017. That's what made the local rain gauges so important. "On the ground there was four inches of rain in an hour," Jackson recalled.
Fire Chief Harrow recounted how the flooding in June of 2017 hit parts of Harriston that aren't normally hit hard by flooding – and that was one of the indicators that this event was exceptional. He recounted how the Mayor declared a State of Emergency, and several homes were evacuated by the Water Rescue Team, as the impact of the flood was felt. The flood affected roads, bridges, more than 100 homes and trailers (other trailers had been moved out of that area in recent years), and the flooding even impacted a municipal office basement. Before cleanup from the flood could start, water had to be pumped out of many basements. The Fire Chief talked about the importance of working with local media and using a single fire department social media portal to get timely information, in one place, to the public during a flood event. "People are inundated with so much information they don't know where to go," he said. So much information, from different agencies, was going to the public so quickly it was important to give people one site where residents could find all the current information, he said. Most people in the Town of Minto communities were already educated to look at the Fire Department's social media feed for emergency information. This took many years to educate the public where to go, according to Harrow, but he says there is a great reward to this prior investment in education when emergency situations happen. Lessons learned from flood events included crew rotation, designating public information officers, alternate sites for contingencies, and the importance of prior training.
ABCA Water Resources Coordinator Davin Heinbuck spoke about how the two-way communication that takes place between municipalities and his conservation authority is important during flood events. The conservation authority updates the municipal contacts each year in the Flood Emergency (Contingency) Plan. There was discussion about how municipalities are helping by providing the conservation authority with their flood emergency contacts in priority order so the right people get called first.
The attendees heard about the conservation authority flood forecasting and warning program which provides municipalities with three levels of flood messages: 1) a Watershed Conditions Statement – Flood Outlook and Water Safety message (Yellow Level); 2) Flood Watch (Orange Level); and 3) Flood Warning (Red Level).
If the Ausable Bayfield watershed had received the forecasted potential amount of rainfall during the recent February 2018 flood event, flooding would have been worse, said Heinbuck.
Attending the March 20 flood emergency planning meeting were representatives of Huron County Management Committee; Community Emergency Management Coordinators (CEMCs); public health representatives; and other personnel involved in emergency planning and response.
The attendees heard there is an upcoming training session, free of charge, for CANWARN program volunteers in Clinton on Wednesday, April 25, 2018 at Clinton Town Hall, 23 Albert Street, at 7 p.m. When CANWARN members detect severe weather, they send reports to the CANWARN network controller who forwards them to Environment and Climate Change Canada's severe weather office in Toronto using a special telephone line or the CANWARN website.
Share this article >