New rain garden in Hensall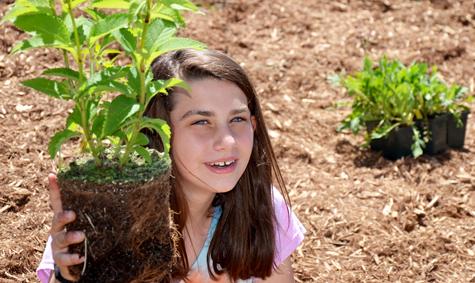 Hensall is home to new demonstration rain garden
About 50 students from Bluewater Coast Elementary work to protect water by planting rain garden at Thompsons Limited in Hensall on Friday June 15
About 50 students from Bluewater Coast Elementary in Hensall planted approximately 450 plants at a rain garden at Thompsons Limited in Hensall on Friday, June 15, 2018. This garden will protect and improve water quality by capturing runoff from surrounding buildings, parking lots, and roads, according to Ausable Bayfield Conservation staff. By including elementary students and placing the garden in a well-traveled area this garden can be used as an educational tool and as a demonstration garden.
Rain gardens are shallow, sunken gardens that are designed to capture water running off of roofs, driveways, and roads during storms. Rain gardens are planted with a variety of native flowers, grasses and shrubs. Native plants are plants that occur naturally in a region. This makes them better suited to local growing conditions. It is the deep roots of these native plants, along with the soil of the rain garden, that help to filter oil, fertilizer and other pollutants from stormwater runoff.
"As stormwater travels across paved surfaces, it can pick up a variety of pollutants," said Megan Leedham, Wetland Technician with Ausable Bayfield Conservation. "By diverting water away from storm drains and into the rain garden, we allow the plants and soil to filter out sediment and other pollutants."
The garden will be used as a demonstration project. Ausable Bayfield Conservation Authority (ABCA); Thompsons Limited; the Municipality of Bluewater; B.M, Ross and Associates Limited; and Bluewater Coast Elementary school in Hensall are working together on the project. Funding for the gardens was provided by Thompsons Limited; and a grant from the Great Lakes Guardian Community Fund.
"I hope people will enjoy this garden and be inspired to create one on their own property," said Hope Brock, Healthy Watersheds Technician with Ausable Bayfield Conservation. "These types of gardens play an important role in protecting water quality. They also provide habitat and add beauty to our local landscape."
To find out more about rain gardens, visit this web page at abca.ca:
Share this article >