Flood Emergency Planning Meeting held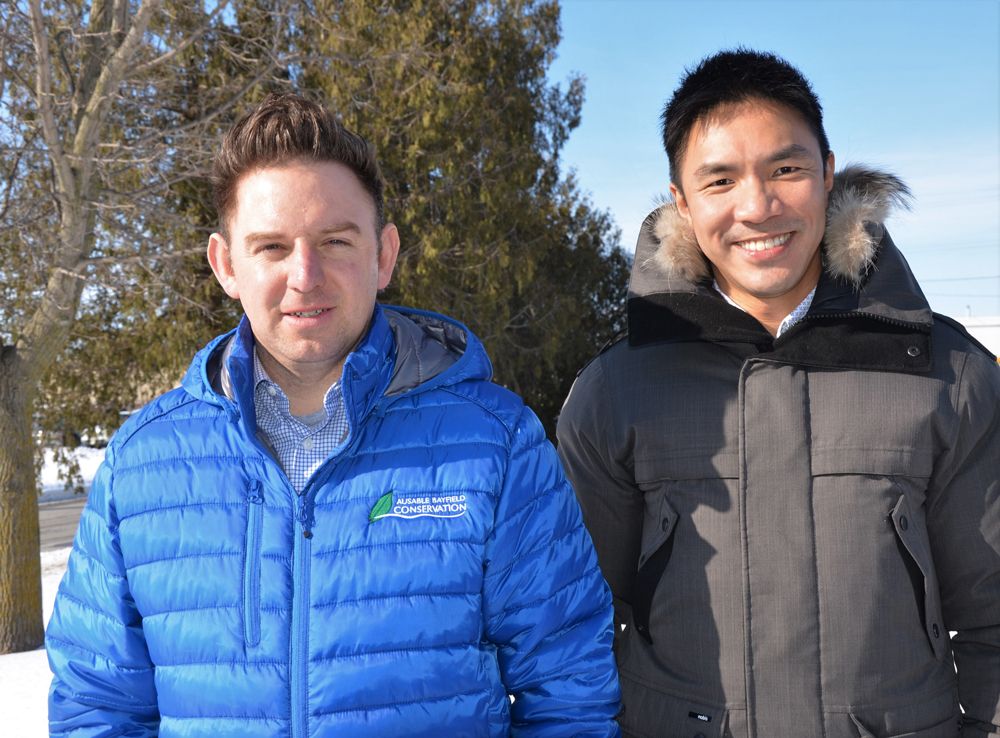 Ausable Bayfield Conservation Authority (ABCA) hosts Flood Emergency Planning Meeting in Exeter
Emergency coordinators, firefighters, police, municipal staff, reporters attend annual meeting about flood emergency preparedness held at Masonic Hall, Exeter on February 19, 2019; Gerald Cheng, Warning Preparedness Meteorologist at Environment and Climate Change Canada, presented
An annual Flood Emergency Planning Meeting, hosted by Ausable Bayfield Conservation Authority (ABCA), was attended by more than 30 people. Attendees included emergency coordinators and police; municipal staff and firefighters; and conservation authority staff as well as local journalists. Gerald Cheng, Warning Preparedness Meteorologist at Environment and Climate Change Canada, spoke at the event, held at the Masonic Hall in Exeter on February 19, 2019. He spoke on weather and flooding in the past year (2018-2019) and a look ahead to the rest of 2019.
The presenter reviewed weather the past autumn and winter and outlined a high number of weather events and systems over the 2018-2019 winter. September was very warm but temperatures dipped down to below seasonal in October and in November came a "big chill," the speaker said, with below-seasonal temperatures from an unexpected Arctic chill anomaly, that confounded long-term seasonal forecasts. The weather in late November included record cold temperatures for November 22-23, 2018. There was also a "deep freeze" late in January of 2019.
The speaker was asked if the high number and variability of weather events this year reflects changes to our climate. The presenter responded that climate change is happening: "If you look at the average temperature from the late 1940s until now, if you take the average temperature yearly, it is going up." He said increases in mean temperatures are expected to produce more heat waves and fewer extended cold waves but climate change "doesn't eliminate" cold snaps. The trend to higher temperatures "doesn't eliminate the day-to-day variability, the day-to-day weather fluctuations," he said. Land use changes can also impact flooding potential.
The Exeter radar station is the next station to be "renewed" in Ontario, Cheng said. The upgraded station will have better range, less "attenuation," and better resolution. Instead of radar every ten minutes it will be every six minutes. Forecasts for the Exeter area can be issued quicker and with more confidence when the upgrade is complete.
In addition to discussion of past weather events, the speaker's presentation included a 'Looking Ahead' section where he tacked the question, "Is it going to be a warm spring?" Temperatures may be normal or above-normal this spring but that could change if there are weather anomalies or systems that aren't reflected in the seasonal forecast, he said. Environment and Climate Change Canada (ECCC) has developed a weather app to deliver severe weather alert notifications, and weather and forecast information, straight to mobile devices. To get this application visit this website link: WeatherCAN
The app is also available for free in the Google Play and Apple stores. Key features of the application include: current conditions, hourly and seven-day forecasts for more than 10,000 locations in Canada; push notifications for weather alerts issued by ECCC for one's location and saved locations anywhere in Canada; weather information for one's location (following them as they travel) as well as for saved locations; high-resolution radar animation on a zoomable map background; a message centre with weather facts and climate information relevant to current weather; and short-range forecast widget for at-a-glance weather information. The app is accessible in English and French and has in-app ability to switch between languages, according to Environment and Climate Change Canada.
At the Flood Emergency Planning Meeting, Ausable Bayfield Conservation Authority (ABCA) Water Resources Coordinator Davin Heinbuck reviewed the roles and responsibilities of different partner organizations including municipalities; conservation authorities; the Province of Ontario – specifically the Ministry of Natural Resources and Forestry or MNRF and Emergency Management Ontario; and Environment and Climate Change Canada.
Municipalities have key roles creating emergency plans, acting as first responders, and ensuring the welfare of their residents, Heinbuck said. Municipalities assess and determine if a declaration of an emergency is necessary and implement an Emergency Response Plan in the case of an emergency. During a flooding situation that is not an emergency the municipality monitors the situation and liaises with others, including the conservation authority.
Conservation authorities have an important supporting role collecting and interpreting data; providing flood messages; and receiving early weather notices from MNRF.
Personnel at ABCA, during a flood event, include a Flood Response Coordinator; Flood Duty Officer; and technical support, office, communications, and field support. The conservation authority helps to prevent flood damage and to "minimize loss of life, property damage, and social disruption" through flood forecasting and warning to municipalities; support for emergency planning; through planning and regulations to keep development away from natural hazards; and technical support for projects that reduce erosion and capture flood waters.
The conservation authority provides municipalities with advance warning of flood events through flood messages (ranging from a Watershed Conditions Statement – Flood Outlook and Water Safety; to a Flood Watch; to a Flood Warning); conducts river watch monitoring and reporting; and maintains an internal flood emergency plan. The conservation authority may also act as a liaison and provide technical assistance and facilitate planning.
Conservation authority staff also operate the Parkhill Dam.
The Water Resources Coordinator shared a number of examples of past flood events in the watershed. He reminded the attendees that flooding emergencies do happen. Heinbuck said snow depth was less than normal at the time of the meeting but that ice jams or future significant snowstorms followed by heavy rain could increase flooding potential.
Share this article >