Fraynes Exeter Toyota gives $2,500 to Jones Bridge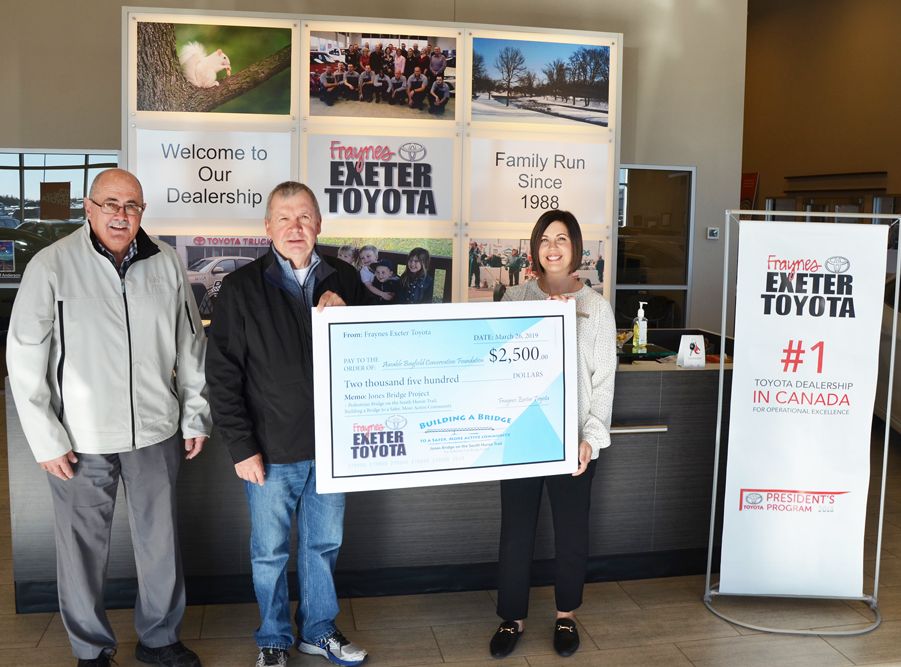 Frayne's Exeter Toyota makes generous $2,500 donation to Jones Bridge Project for Pedestrian Bridge on the South Huron Trail
Frayne's Exeter Toyota has helped to make the community safer and more active with a community-minded donation of $2,500 to the Jones Bridge Project for a new pedestrian bridge, and ancillary structures, on the South Huron Trail.
Accepting the donation, on behalf of the Pedestrian Bridge Community Working Group and Ausable Bayfield Conservation Foundation, are (left to right in photo) Dave Frayne, Chair of the Community Working Group and Conservation Foundation director; and Lorne Rideout, member of the Community Working Group and Friends of the South Huron Trail. Presenting the donation is Justine Frayne-Steenstra, General Manager of Frayne's Exeter Toyota.
To find out more visit the Jones Bridge - Pedestrian Bridge on the South Huron Trail web page:
To donate now, click on the button below to donate online:
Or, talk to one of your Community Working Group members (listed on the brochure) or phone us at 519-235-2610 or toll-free 1-888-286-2610.
Share this article >