Firefighters, Lions support Jones Bridge Project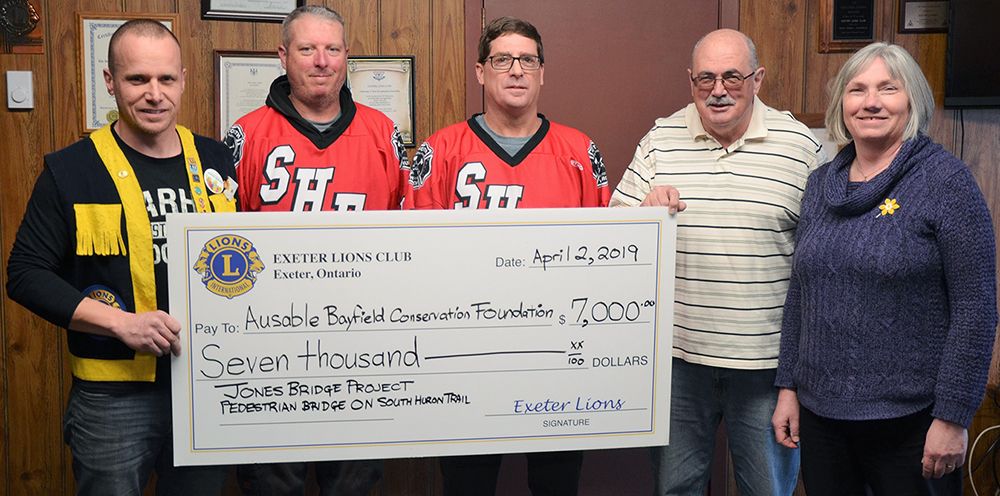 Exeter Firefighters' Association and Exeter Lions Club help to make community safer, more active
The Exeter Firefighters' Association and the Exeter Lions Club, along with the support of community members, have helped to make the community safer and more active with a donation of $7,000 to the Jones Bridge Project for the new pedestrian bridge on the South Huron Trail. The money was raised at the Lions vs. Firefighters Charity Concert and Hockey Game on Saturday, March 16, 2019 at Exeter Arena.
Presenting the ceremonial cheque, from left to right in photo, are: B. J. Theophilopoulos, Lions Club member; Bryan Denomme, firefighter; and Jeff Musser, District Fire Chief. Accepting the cheque are Dave Frayne, Chair of the Pedestrian Bridge Community Working Group and Chair of Ausable Bayfield Conservation Foundation; and Kate Monk, Manager of Stewardship, Land and Education at Ausable Bayfield Conservation.
The generous donation on behalf of the firefighters, the Lions, and the community, will help the Jones Bridge fundraising campaign get closer to reaching its capital budget target.
The Grand Opening and Ribbon Cutting ceremony for Jones Bridge is on Saturday, April 27, 2019 at 10 a.m. to thank all donors to the bridge project.
To learn more visit the Jones Bridge Project - Pedestrian Bridge on the South Huron Trail web page:
Share this article >