Main Bayfield Community Watershed Plan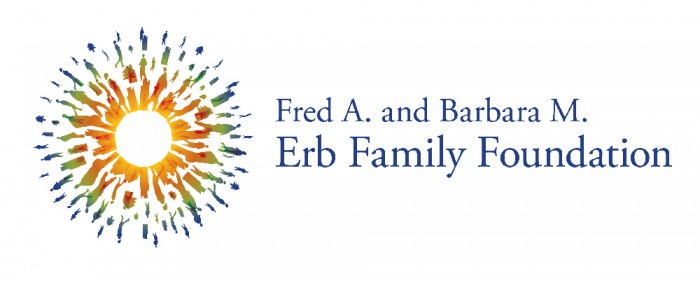 M
Download the community's plan, developed by the steering committee for release on October 6, 2013, now:
Find out about rain barrels:
Find out about rain gardens:
If you are in Bayfield, please find this Municipality of Bluewater form for the rain garden grant program:
For a list of local contractors with Landscape Ontario certified program certificates download this file:
Soil Health in the Main Bayfield Watershed
For information on protecting soil health and water quality in the Main Bayfield watershed, download the October 2018 Main Bayfield newsletter now:
Huronview Demonstration Farm hosts studies
One study and possibly another are helping the Huron County Soil and Crop Improvement Association (HSCIA) demonstrate best agricultural practices at the Huronview demonstration farm south of Clinton.
The first study involves a collaboration between Ausable Bayfield Conservation, Agriculture and Agri-Food Canada, and the University of Guelph. Researchers will be investigating whether electrical conductivity can serve as a surrogate metric for site-specific measures for soil health. This will allow for a better understanding about soil health and allow individual producers to compare their numbers to meaningful benchmarks.
To find out more read newsletter (link above).
Stormwater Stroll
Self-Guided Tour in Bayfield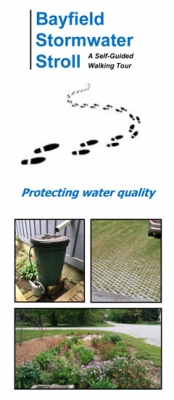 You are invited to take the Stormwater Stroll self-guided tour.
Check out different urban initiatives in Bayfield working to improve the quality of water with rain gardens, rain barrels, tree planting, permeable pavement, and more.
Watershed Report Card
Watch this video about the Main Bayfield River Watershed, courtesy of the Rural Stormwater Management Model Project:
The Main Bayfield Watershed is one of five sentinel watersheds, or 'beacon areas,' that are priority areas for the southeast shoreline of Lake Huron. The long-term monitoring and on-the-ground actions in this watershed are helpful in providing lessons learned that can be applied to the benefit of all Lake Huron.
To find out more about the Main Bayfield Watershed, visit the Healthy Lake Huron - Clean Water, Clean Beaches website:
The Main Bayfield Watershed is a subwatershed of the Bayfield River. Main Bayfield Watershed encompasses 92 square kilometres – 19 per cent of the total area drained by the Bayfield River. This section of the Bayfield River stretches from west of Clinton, to its outlet at Lake Huron in Bayfield, and spans the municipalities of Bluewater, Central Huron, and Huron East. Land use within the watershed area is predominantly agricultural (62 per cent) and natural area (31 per cent). The remaining area is comprised of small urban centres.
Significant natural areas are concentrated primarily along the watercourses, with amounts of forest, wetland, and streamside cover being above average for the entire Ausable Bayfield Conservation Authority (ABCA) watershed area. An Area of Natural and Scientific Interest (ANSI) is contained within the Main Bayfield Watershed, which was designated on the representation of certain biological features.
In the autumn of 2013, a long-term, community-based watershed plan was launched for and by the watershed. A community advisory committee that had been meeting since 2011 summarized the challenges facing this watershed and presented corresponding actions that would help improve water quality. Following the key strategies of the Lake Huron-Georgian Bay Initiative for Community Action, the Main Bayfield Watershed Plan builds awareness, supports community involvement, and helps to implement actions to protect and enhance the watershed.
Recommendations in the plan include following principles for Community Action: Build Awareness, Involve the Community, Take Actions such as establishing buffers and rain gardens, creating wetlands or berms, maintaining crop residue, following nutrient management plans, and planting windbreaks and trees on marginal land and Monitor Effects. A community advisory committee is raising awareness about the plan through local events that have included a rain-barrel sale, rain garden workshops, and watershed walks to gather more information about how water flows over the landscape.
The Fred A. and Barbara M. Erb Family Foundation, a U.S. foundation dedicated to nurturing environmentally healthy and culturally vibrant communities in metropolitan Detroit and supporting initiatives to restore the Great Lakes Basin, provided Ausable Bayfield Conservation with $100,000 for continued implementation of the local watershed plan. The Ontario Ministry of the Environment and Climate Change and Environment and Climate Change Canada also contributed.
More information about the Main Bayfield Watershed Plan is available on the Ausable Bayfield Conservation Authority (ABCA) website at the following link:
Accomplishments
In addition to quarterly newsletters, many outreach events (e.g., hikes, rain barrel sales, tree planting, festivals/fairs, cover crop fora, etc.) have taken place to keep landowners up-to-date on what is going on in the Main Bayfield Watershed. Most recently, rain garden workshops were offered to both homeowners and contractors so that rain gardens could be implemented to help manage urban stormwater (water running off of land during storm events).
These workshops build on the demonstration rain gardens that were installed in Bayfield in 2016 and another one which was scheduled to be installed in the summer of 2017 in Clinton. Partnerships with local organizations and municipalities were essential in the success of these projects.
On the rural landscape, four watershed walks have been completed since 2014 which have allowed for the identification of almost 250 best management practices (BMPs). Community partners have completed or committee to, eighteen BMPs following these walks, and 22 additional BMPs have been completed elsewhere in the watershed since 2014. BMPs consist of erosion control, wetland, cover crop, tree planting, and rain garden projects.
Citizen scientists have been active in collecting stormwater samples along the Bayfield beach since 2014, while other landowners have been collecting turbidity measurements at upstream and downstream locations. The Bayfield Main Beach has proudly displayed the Blue Flag since 2009.
Help us to enact the watershed plan for the Main Bayfield River Watershed and Trick's Creek Watershed
A watershed is… an area of land that drains to a common waterway, such as a stream, wetland, or lake.
The water in our watershed drains to Lake Huron.
A watershed plan is … a list of actions that will help us better manage our water and related resources, such as soil and fish. It also includes a description of land use, geology, and water quality. The plan is created by the local community and local agencies to protect and enhance the local environment.
Watershed planning has been found to be a cost-effective and practical way to manage local water. It looks at natural boundaries where it is easier to see cause-and-effect relationships.
Main Bayfield River watershed Drainage Area:
Municipalities:
Bluewater
Huron East
Central Huron Tributaries:
Wise Drain
Trick's Creek
Middleton's Creek
Wiltse Creek:
Dowson-Keys D.W.
Brandt Creek
A watershed plan is a continuous process of:
Collecting information to identify the issues and problems;
Using this information to protect and promote the long-term health of the local environment;
Identifying actions that need to be taken by agencies and landowners living and working within the watershed;
Setting up a process to evaluate the actions.
Why do we need a watershed plan?
Everything is connected to everything else. Erosion upstream affects the quality of water downstream. Long-term problems can develop that are costly and difficult to deal with in the future. To avoid these problems, we need to take preventive actions now. We can protect water more efficiently if we manage watersheds as whole systems. By using a watershed approach to manage our resources, we can identify harmful impacts on the local environment. We can take steps to address challenges in both the short term and long term. A watershed plan can prevent future water shortages and poor water quality.
Early findings
1) We get a B grade for overall tree cover and forest conditions in the watershed. However, tree cover is mainly concentrated along the river, while the headwater areas have very low tree cover. For overall surface water quality we get a C grade in the watershed. This signifies improvements need to be made.
2) Tourism is important to our local economy. Swimming, boating and fishing bring many people into the area.
Our current Scorecard:
Forest Conditions B
Surface Water Quality C
These are the grades from the 2007 Watershed Report Card for the Main Bayfield River watershed. Go to the 2018 Watershed Report Card for the latest results by clicking on link at top of home page.
We assembled this report card through a process developed for conservation authorities in Ontario Watershed Report Cards were completed for 16 sub-watersheds in the Ausable Bayfield Conservation Authority (ABCA) area. Nutrient, sediment and bacterial pollution can limit the options we have for recreational activities along the Bayfield River and the shores of Lake Huron. This is similar to many areas within Canada and the United Stated. In fact the United States lists a number of water bodies as impaired. (http://iaspub.epa.gov/waters10/attains_nation_cy.control).
What is being done?
Our watershed is one of the six priority areas (sentinel watersheds or 'beacon areas') where federal, provincial, and local agencies are piloting projects to improve water quality along the southeast shores of Lake Huron
Step 1. Current watershed information is being reviewed and summarized.
Step 2. A committee of landowners and other stakeholders has been established to guide the watershed planning process.
Step 3. A landowner survey has been created to gather land use and environmental improvement information to supplement the monitoring data and assist in creating better recommendations. The information gathered as part of these surveys will be used in our watershed description.
Step 4. Help to link landowners with technical and financial assistance to carry out environmental improvement projects. Early community watershed objectives
Community Goal
Improve the water quality within Lake Huron, the Bayfield River and all tributaries. The goal is to reduce Total Phosphorus and Escherichia coli (E. coli) concentrations and to increase forest cover, wetlands and streamside cover.
First Objective
Make land improvements to meet Watershed Report Card objectives. Data collected from the Main Bayfield Watershed gave values for forest conditions and surface water quality. These values are a starting point to measure improvements.
Second Objective
Within the next three years the advisory committee would like to complete twenty-five environmental improvement projects, within the Main Bayfield River watershed.
Tell us what actions you believe are most needed now for your watershed. Please contact your neighbours who are a part of the Advisory Committee or contact Ausable Bayfield Conservation.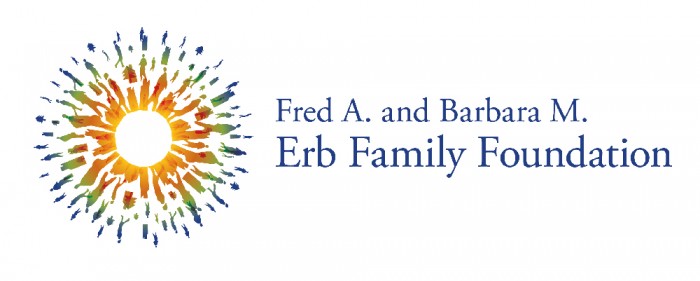 The Main Bayfield Watershed Plan has been made possible by the Fred A. and Barbara M. Erb Family Foundation
The Main Bayfield Advisory Committee has completed the Main The Main Bayfield Advisory Committee has completed the Main Bayfield Watershed Plan, after almost two years of work by the community.
The Fred A. and Barbara M. Erb Family Foundation, a U.S. foundation dedicated to nurturing environmentally healthy and culturally vibrant communities in metropolitan Detroit and supporting initiatives to restore the Great Lakes Basin, provided Ausable Bayfield Conservation with $100,000 for its work with landowners to conduct community-based planning at the local watershed scale, and other work to improve water quality between 2011 and 2013. The project has involved the community of the Main Bayfield River Watershed which includes Trick's Creek Watershed.