Cover Crops
Try Cover Crops
Cover crops have many benefits to the landowner and the community.
Cover crops:
Find out more
Do you need some help to decide what to plant? Contact your local cover crop seed supplier, talk to your neighbour, or contact your certified crop advisor.
You may also want to use the cover crop decision tool here:
Talk to us about grants and incentives
Talk to our stewardship staff, at Ausable Bayfield Conservation, about some of the grant programs with incentives that can help make it easier for you try out cover crops.
Area*

Grant Rate

The BASE

Huron Clean Water Project – all of Huron County

$15 per acre

Special Watershed Programs

Ausable River (south of County Rd. 84)

Main Bayfield, Bannockburn, Bayfield Headwaters

Bayfield North Gullies and South Gullies

When combined with HCWP funding:

Eligible for a $30/acre incentive

Eligible for a $45/acre incentive

Eligible for a $45/acre incentive

Ausable River (outside of Huron County)

Eligible for a $15/ acre incentive
*Programs may be watershed-based, or have specific species and over-wintering requirements, contact your local Conservation Authority for full program details, and to apply for funding. For the Ausable Bayfield Conservation Authority (south of Highway 8), contact Brooklyn Rau at (519) 235-2610 or by email, at brau@abca.ca.
Please enter your address in the search bar on the top right of the map below to determine what watershed you are in. Then click the map to determine the programs you are eligible for and to get a link to the proper application form. To see the legend press the >> on the top left corner of the map.
If you are not applying for funding from the Huron Clean Water Project, please submit an application from below:
If you have any questions at all about the forms or application process, please contact Brooklyn or Hope.
Their contact information is on our staff contacts page:
Cover Crops in Sixty-Inch Corn
Certified Crop Advisor and Professional Agrologist Ross Wilson, of Ausable Bayfield Conservation, is updating us on the use of #covercrops and #60inchcorn in a trial south of Clinton, Ontario, Canada.
Here are some video updates about the project:
First Video (Posted June 2020):
Second Video (Posted July 2020):
#healthylakehuron #landtolake #pieceofthepuzzle
This research project observes the effect of different cover cropping strategies within a 60-inch twin-row corn scenario.
Variables include population size (64,000 versus 48,000).
Another variable is the effect of different cover crop mixes. For example ... tailored either to the corn crop (mostly legume, especially early maturing); or the subsequent bean crop (mostly Italian ryegrass with some clovers and a little brassica and radish).
Other variables are cover crop seeding rate (30 pounds per acre versus 60 pounds per acre).
Ausable Bayfield Conservation is working with the participating landowner (thank you, Bill Gibson and Family!) and with agricultural industry partners to monitor.
The project partners will be monitoring 2020 corn yield; 2020 cover crop biomass production; autumn 2020 soil health indicators; 2021 bean yield; and autumn 2021 soil health indicators.
Strips are 60-feet wide to accommodate three passes of eight row planters and four passes of 15-foot drill. Strips about 700 feet long equate to about one acre in size.
(A football field is about 1.32 acres in size. An acre is more than 4,000 square metres.)
Wilson flags out strips after a second cultivator pass.
The 60-inch corn twin rows are planted by the two-pass, every-other-row method, offset by seven inches.
Cover crop mixes are drilled into the corn at the 'V4' stage.
There is a common fertility program for all strips.
The project uses GPS (Global Positioning Systems) to locate strip boundaries for future reference.
The damage to corn is minimized, when planting the cover crop, by splitting twin rows with drill-seed openers.
To find out more contact Ross Wilson, Water and Soils Resources Coordinator, at rwilson@abca.ca or phone 519-235-2610 or toll-free 1-888-286-2610, extension 249.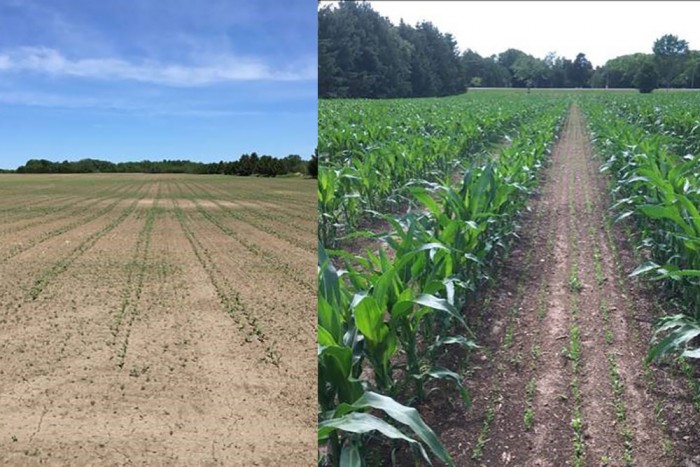 In photo above, the photo on the left-hand side shows emergence of twin-row corn and the second photo, on the right-hand side, shows the emergence of cover crop between rows.
Cover Crop Comparisons
Check out this 60-inch corn comparison chart:
Cover Crop in 60-inch Corn Presentation
Watch this presentation, on the Cover Crops in 60-inch Corn Trial, from Ross Wilson and Hope Brock, Ausable Bayfield Conservation, from the Annual Cover Crops Workshop on January 29, 2021:
Cover Crop Videos
Watch other cover crop videos on our YouTube channel:
There have been a number of cover crop innovations found throughout Huron County over the past few years. Here are a few highlights from 2020. Ausable Bayfield Conservation thanks all the farmers adopting cover crops and improving soil health and water quality. Grants and staff support may be available. Visit abca.ca to find out more.
Ross Wilson, MSC; PAg; CCA-ON; Water and Soils Resource Coordinator, Ausable Bayfield Conservation, talks about the many benefits of cover crops and 'service crops.' Thanks to https://www.bensound.com/​ for the wonderful music.
Let's root for roots! In this video, certified crop advisor Ross Wilson, of Ausable Bayfield Conservation, takes you on a tour of what's underneath the surface. You may never look at roots the same way! Just as every player on the ice has a role to play, each kind of cover crop can play a different role and achieve different goals for you. #healthylakehuron​ #landtolake​ #pieceofthepuzzle​ Thanks to https://www.bensound.com/​ for the wonderful music. #healthylakehuron #landtolake #pieceofthepuzzle
More bees please! Help our pollinators ... plant cover crops. Ross Wilson, a certified crop advisor and Water and Soils Resource Coordinator with Ausable Bayfield Conservation, visits the farms of two local participating landowners and shows how some cover crops attract pollinators. Pollinators, like bees, are needed for growth and life.
Have you wondered about using #covercrops​ after corn? Find out more about using #60inchcorn​ to help establish a cover crop during this trial project south of Clinton, Ontario, Canada. Stay tuned for more updates over the season! #pieceofthepuzzle​ #healthylakehuron​ #landtolake​ Thanks to https://www.bensound.com/​ for use of the music ('Sunny').
Have you heard about pollinator strips? They help with wind and water erosion and provide habitat for local pollinators. Check out this video from Huronview Demonstration Farm www.huronview.net @HuronSoilCrop @HealthyLkHuron #pieceofthepuzzle​ #healthylakehuron​ #landtolake​ Simon's Song music by Dan Lebowitz, royalty-free music courtesy of MusicHub
Cover Crops and Soil Health
Visit our page for recent soil health initiatives:
Also, visit the soils page of the Conservation Strategy developed by your watershed community: