Wetland Past Projects
Here are some examples of the past wetlands projects and stormwater management improvements that have been made thanks to participating local landowners and project partners: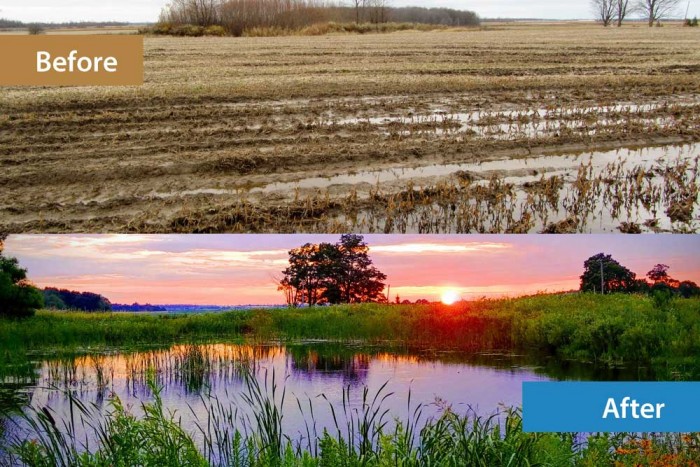 Strapp Wetland Project
The Strapp project (photos above) is located near Denfield, Ontario. In 2014, the landowners restored a very wet low-yield edge of their farm to a one-acre shallow pond. There was always a small flooded area with Willows growing in it. The newer water feature is just next to the Willows. The Strapp family retired four acres for wetland and Tallgrass Prairie planting around it and 300 trees were planted at the roadside. They now have a diverse habitat and enjoy watching the wildlife that it attracts. (Photo courtesy of Ruth and Greg Strapp).

Click the link below for a video of the Strapp Family Wetland:
Read this story on the Strapp Family Wetland: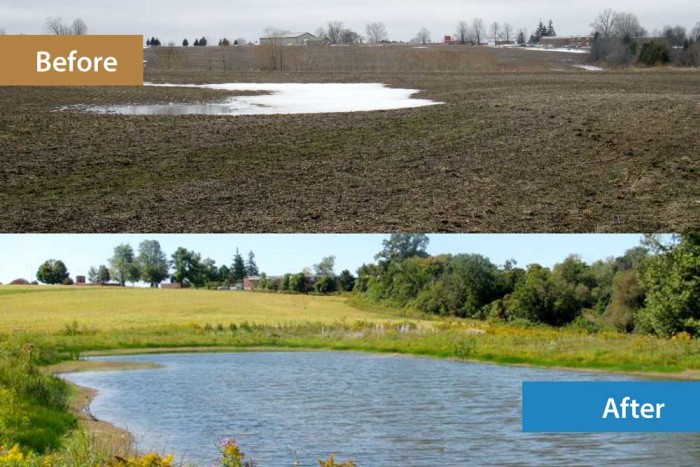 Huronview Wetland Project
This project (photos above) was completed over a two-year period in 2009 and 2010. In that time, two wetlands were created (three acres restored). The project is at the Huron County Demonstration Farm at the Huronview Complex near Clinton, Ontario. There were 3,950 trees and shrubs planted in six acres of flood plain and a 60-metre watercourse buffer was planted by students. Four acres of fragile land, which was rocky flood plain, was also retired and planted in trees to enhance the Bayfield River corridor. This wetland system provides natural corridor from the Bayfield River to an Environmentally Significant Area woodlot. These wetlands continue to function alongside productive agricultural fields. They now provide a healthy habitat for local wildlife such as snapping turtles, painted turtles, frogs, newts, and waterfowl.
Some new innovative demonstration activities for the farm can be found here, as well as an informative video: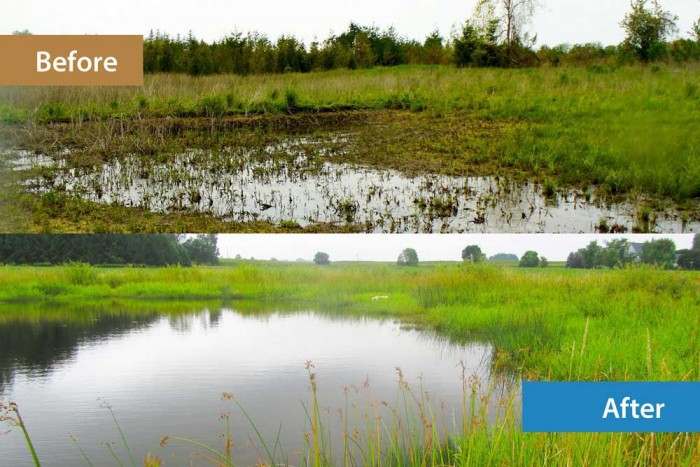 Haak Wetland Project
The Haak Project (photos above) is located near the Hullett Marsh. Since 2009, the landowner and Ausable Bayfield Conservation have planted more than 5,100 trees and shrubs at the site. More than 23 acres of wetland habitat were restored on the site and almost three acres of Prairie Grasses were planted along the watercourse to create a diverse habitat and enhance the buffer. Today a portion of this area is a hayfield and the landowner is able to control the water levels using a water control structure. In the spring season, this hayfield is allowed to flood and stay wet which provides storage and helps to reduce erosion and the risk of flooding further downstream and provide duck habitat. It is then drained well before it is time to harvest the hay.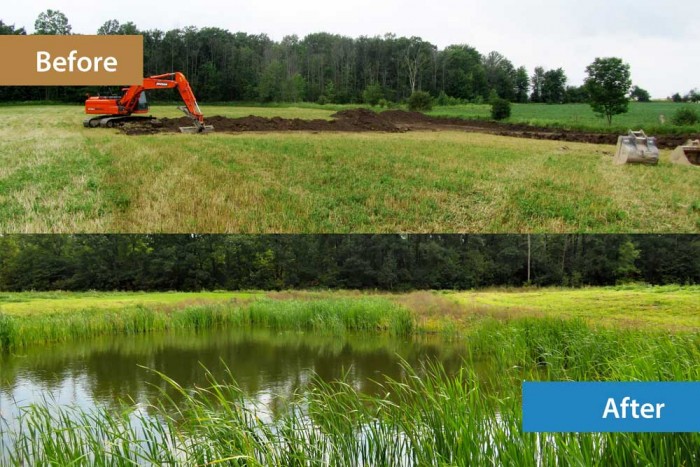 Hindmarsh Wetland Project
In 2017, a four-acre hayfield was retired to create one acre of wetland habitat. Twenty-one species of wetlands plants were planted or seeded around the wetland to create biodiversity. (Photos above) The additional three acres of retired land was planted with 2,000 trees including six different species. This expanded the forest habitat surrounding the area and connected the wetland with surrounding natural areas including the Ausable River and a provincially significant wetland.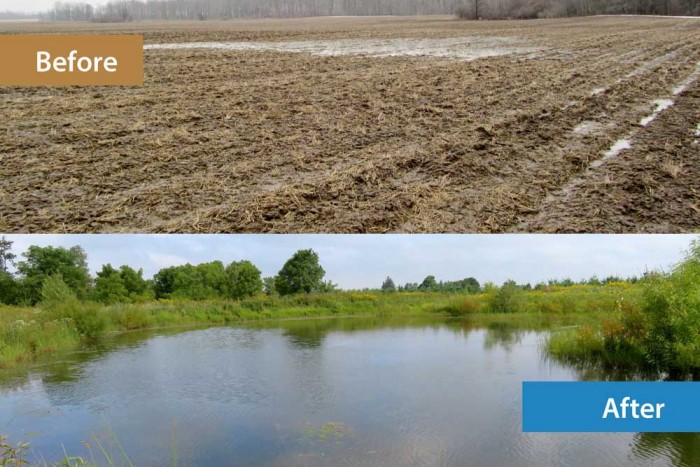 Quinn Wetland Project
A large portion of unproductive agricultural field (38 acres) was retired for naturalization, by the landowner, rather than draining it for agricultural production. Five wetlands were created (photos above) in a very wet area of hard clay soils. More than 19,000 trees and shrubs and 6,000 aquatic plants surrounding the wetlands were planted. This site is located within a coldwater watershed which supports species at risk.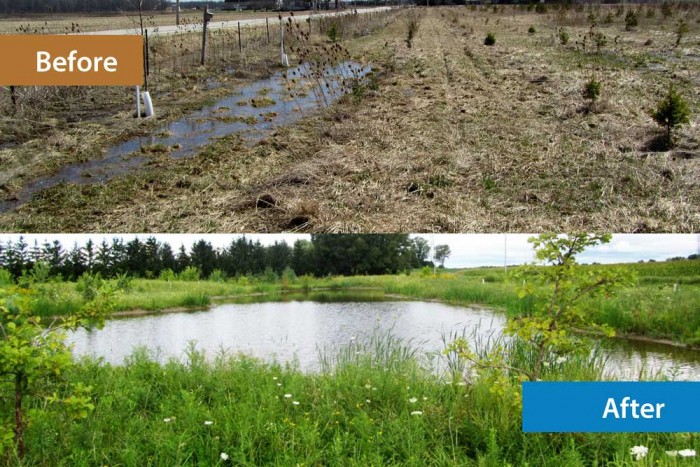 Van Der Laan Wetland Project
A retired sheep pasture was bordered on two sides by roads and separated from the rest of the pastures by a municipal drain. The landowner decided to retire the area and plant it in trees. In one area the trees didn't grow well due to wet soils. This section was restored to a wetland. (Before and after photos above) A small open water wetland was dug and then planted with wetlands plants and shrubs. It provides increased habitat diversity for waterfowl and many other animals.
Contact us:
To find out about stormwater enhancements you can make on your property – and to find out about grants and technical advice – please contact Angela at Ausable Bayfield Conservation: 519-235-2610 or toll-free 1-888-286-2610.
Visit our staff contacts page:
To return to main wetlands and stormwater management page please click the button below: